JPMorgan Chase's Cryptocurrency: Is It A Gimmick Or The Real Deal?
By Investing.com (Tanzeel Akhtar/Investing.com)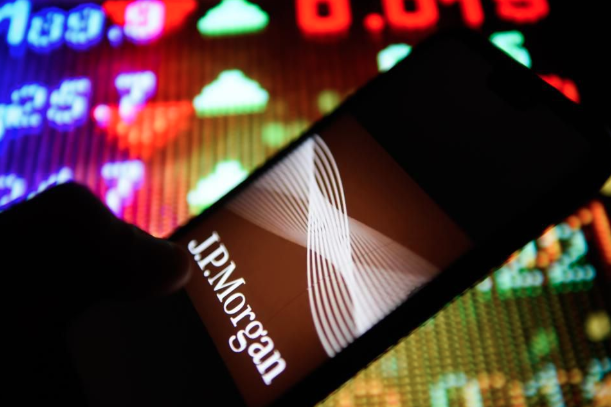 <
JP Morgan logo is seen on an android mobile phone. Photo credit: LightRocket via Getty Images GETTY
The announcement last week by JPMorgan Chase & Co (NYSE:JPM), that it plans to launch its own digital token, JPM Coin, caused ripples throughout the blockchain and cryptocurrency space. It's an unexpected development from an unlikely issuer. It's also the first cryptocurrency to be launched by a major global bank.
The bank is characterizing the introduction of this alt-currency as a pilot project aimed at institutional clients. According to JPMorgan, it will enable "instant" fund transfers and will allow both clients and the lender to settle payments over a blockchain network.
What makes this particularly startling are previous statements by JPM's CEO Jamie Dimon who famously bashed Bitcoin more than once. In late 2017 he referred to the most popular cryptocurrency by market cap as a "fraud," and compared the drivers of its then-rapidly-rising price to the mania that in the 1630s drove Dutch tulip bulb speculation.
In late 2018, even after the speculative Bitcoin bubble had burst, he denigrated the asset, saying, "blockchain is real, it's technology, but Bitcoin is not the same as a fiat currency." By those measures, JPM Coin appears to be something of a hybrid: it's based on blockchain technology and will be pegged 1:1 to a fiat currency, the U.S. dollar, which makes it a stablecoin, similar to Tether or TrueUSD.
JPM Coin is a very positive development for the asset class and the industry says En Hui Ong, head of business development at blockchain technology platform, Zilliqa. It demonstrates how blockchain can improve the way legacy payments are handled.
Don't Call It Cryptocurrency
However, he adds, it shouldn't be viewed as a cryptocurrency. Rather, it can best be described as a "digital asset."
"JPM Coin will be built on Quorum, a distributed ledger platform described as an "enterprise-focused," private version of Ethereum. As Quorum was developed by JP Morgan and some of its partners, the network will be controlled by the bank itself, rendering it both centralized and permissioned, therefore implying that any participants have to be vetted in order to join the system.

Contrast this with other cryptocurrencies such as Bitcoin and Ethereum where anyone located anywhere can spin up a node and join the system without permission."
These restrictions mean only a small number of participants will likely able to join the network. Information from the bank, says Ong, indicates that JPM Coin is a prototype being tested by a restricted number of institutional clients. Though JPMorgan plans to expand the pilot program later this year, there are no plans to offer the cryptocurrency service to retail clients.
In contrast, true cryptocurrencies are available to anyone, notes Ong. All one has to do is to set up a wallet in which to store it. Nevertheless says Ong:
"Despite its differences from cryptocurrencies, the launch of JPM Coin and the participation of a major financial institution lends greater legitimacy to the wider blockchain industry as a whole."
Angelo Laub EOS lead at private data computation and data marketplace Slant agrees with Ong:
"The only users of JP Morgan coin are likely to be JP Morgan and their clients. I can't even see other banks wanting to use it as it will make them reliant on JP Morgan Bank for processing transactions. Still, it's a big step for a bank to go ahead and do something like that. This concept would have been unthinkable one or two years ago."
Others don't see this development as particularly notable. Marcel Vaschauner, Chairman of Slant's board,argues that JPM Coin—which is issued by the bank and linked to the funds of the customer using it—most closely resembles a European digital payment instrument called e-money. He says it's a concept that's already widely used by Fintechs.
Still, because of Dimon's past criticism of cryptocurrencies, some within the industry can't help but appreciate the irony even if he's not convinced about the coin itself. Pedro Anderson, COO and co-founder of Winding Tree says:
"JPM Coin is great validation [of the asset class]. We'll take it. However, the entire case for the coin is built on trusting JPM—that they'll make everything right if they are in control because…they have a lot of money."
Crossing the Chasm?
Ned Myers, senior vice president of Product Management at AlphaPoint, believes JP Morgan's entrance into the digital asset space is another clear sign that the security token industry is rapidly "crossing the chasm," to cite Jeffrey Moore, moving from early adoption to mainstream acceptance.
"Combined with other announcements from Fidelity and ICE's BAKKT's announced entry into the digital asset exchange space…we see JPM's move as a clear harbinger that the use of digital assets by traditional financial institutions has arrived. I am looking forward to the tipping point, in which tokenized securities become the de facto standard for unlocking market liquidity."
Others, however, would argue this nothing more than an advertising stunt. Vaibhav Kadikar, founder and CEO of, CloseCross believes JPM Coin, though billed as a cryptocurrency, is seen by critics as a self-promotional gimmick with little in the way of real value.
"The pioneering bank is relying on both its dominant market share, with 80% of Fortune 500 companies as clients, and other banks imitating this strategy, to drive increased adoption."
Original article posted on Investing.com.
Posted on Markethive by Jeffrey Sloe
Visit MarketHive to learn more: http://markethive.com/jeffreysloe