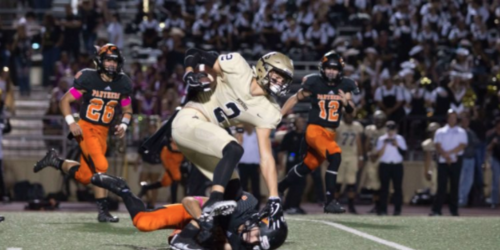 Bitcoin Reclaims the 200 Weekly MA. Has BTC Decoupled from the Stock Market Turmoil?
Last week, Bitcoin (BTC) lost the 200 Weekly MA and dropped as low as $3,700. It has since recovered this crucial support.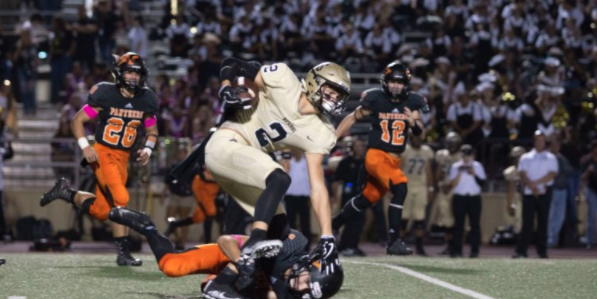 In brief:
Bitcoin (BTC) lost the crucial support of the 200 Weekly MA due to the global economic impact of the Coronavirus.
For the past few weeks, BTC has been correlated to the stock market that has been continually in distress.
The King of Crypto has since reclaimed this crucial support indicating a possible decoupling from the stock market turmoil.
As the rest of the crypto community is closely watching Bitcoin's impressive gains from $5,200 to $6,900, something exciting has just happened: The King of Crypto has reclaimed the 200 Weekly Moving Average. This achievement might put BTC on a trajectory to still prove its worth in the markets as a safe haven asset. This is the same Moving Average (in yellow) that indicated a bottom to the 2018 bear market. The following Bitfinex BTC/USD chart gives a better visual cue of the situation.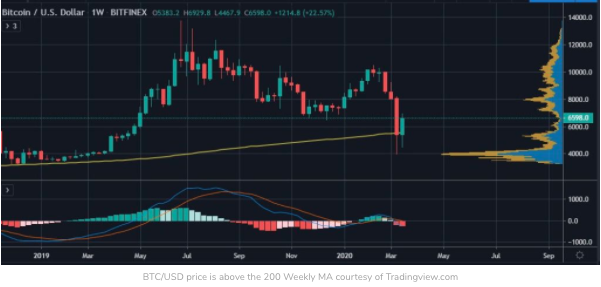 Strong Bitcoin Weekly Candle
Also to note, is that the weekly candle is a strong green one. This fact was pointed out by popular Crypto trader @CryptoDude999 in the following tweet.
Has Bitcoin Decoupled from the Stock Market Turmoil?
The resurgence of Bitcoin and regaining the 200 Weekly Moving Average is grounds to speculate that BTC is again the focus of investors seeking alternative assets to rally behind during the current market uncertainty brought about by the spread of the Coronavirus. Crypto trader @hodlonaut best captures this fact through the following tweet.
Best to Exercise Caution with BTC
However, it might be wise to maintain a level of caution given the fact that the weekly MACD in the first screenshot, shows that the trend might still be in favor of the bears. Bitcoin also faces tough resistance at $6,900 . It was rejected at this value a few hours ago. Also to note is that the week is not yet over. The strong weekly candle might fall victim to low trade volume that is a characteristic of most weekends.
(Feature image courtesy of Katrina Berban on Unsplash.)
Disclaimer: This article is not meant to give financial advice. Any additional opinion herein is purely the author's and does not represent the opinion of Ethereum World News or any of its other writers. Please carry out your own research before investing in any of the numerous cryptocurrencies available. Thank you.


Markethive Advertisement
Original article posted on the EthereumWorldNews.com site, by John P. Njui.
Article re-posted on Markethive by Jeffrey Sloe
Visit MarketHive to learn more: http://markethive.com/jeffreysloe