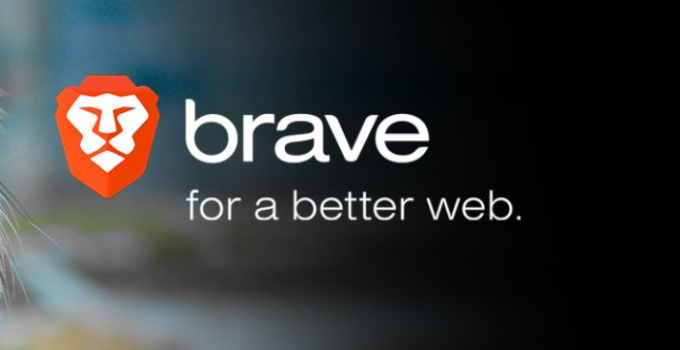 Brave Browser Testing a New BAT Tipping Feature for Twitter Users
Jose Antonio Lanz May 24, 2019
The world of cryptocurrencies and blockchain technologies continues to grow despite the skepticism of some experts, demonstrating that every day more use cases involving these technologies appear around the world. A few hours ago, Brave Software, the developer of the internationally famous Brave Browser announced that they are testing a new feature that will allow their users to send BAT tips via Twitter.
The announcement first appeared on Brave's official Twitter, although they pointed out that at the moment it is only available in the Nightly Desktop version, which means that it is not yet completely stable and certain errors can be found.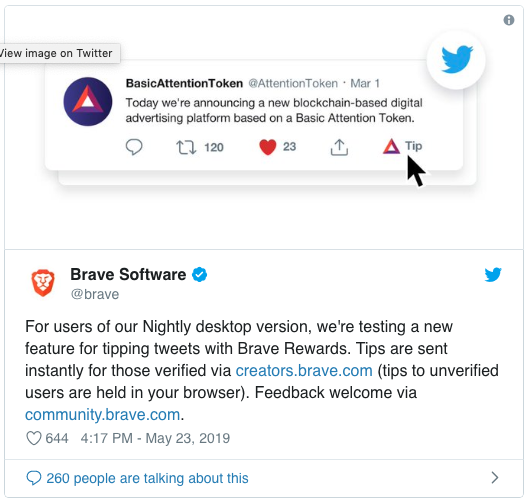 To be able to use this option, users must register at publishers.brave.com, and link their twitter account to this platform. This means that in theory, at least in a first stage, this feature is oriented to reward content creators.
There are other options to tip users in the crypto-verse. The best known XRPTipBot. Thanks to this implementation any user with a Twitter account and an XRP Wallet can send and receive tokens with a simple command.


Markethive Advertisement
BRAVE: SLOWLY BUT STEADILY ON ITS WAY TO START A REVOLUTION (BUT NOT EVERY AGREES WITH ITS METHODS)
Brave has gained worldwide popularity since the launch of its Browser. According to some statistics it has managed to position itself in the market as a strong competitor of Google Chrome even beating it in the number of downloads.
Likewise, Basic Attention Token, the cryptocurrency that powers the whole ecosystem, has had a strong hype around it, mainly after it was one of the first altcoins listed on Coinbase Pro.
The use of a token to revolutionize the content distribution and advertising industry is very attractive, however, some believe that it is unnecessary to develop a native token.
For this reason (along with other more philosophical ones) the GAB team is developing a browser using Brave's code as the base for a fork. The new Dissenter Browser seeks among other things to replace the use of BAT by a BTC wallet capable of sending tokens on the Lightning Network.
The browser has not been as popular as Brave, but it is important to point out that it has not had the same media campaign nor the same volume of investment as its "big brother".
Original article written by Jose Antonio Lanz and posted on the CryptoCrimson.com site.
Article posted on Markethive by Jeffrey Sloe
Visit MarketHive to learn more: http://markethive.com/jeffreysloe