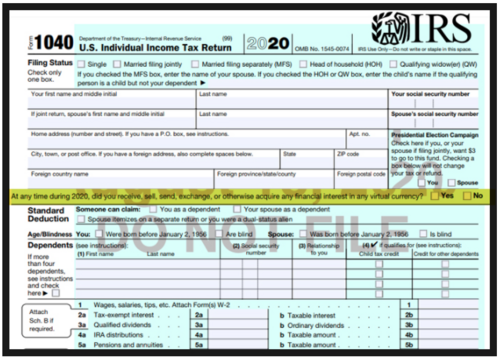 IRS Intends To Ask Every American Tax Filer About Crypto Transactions In 2020
By RTTNews Staff Writer | Published: Published: 8/24/2020 10:19 AM ET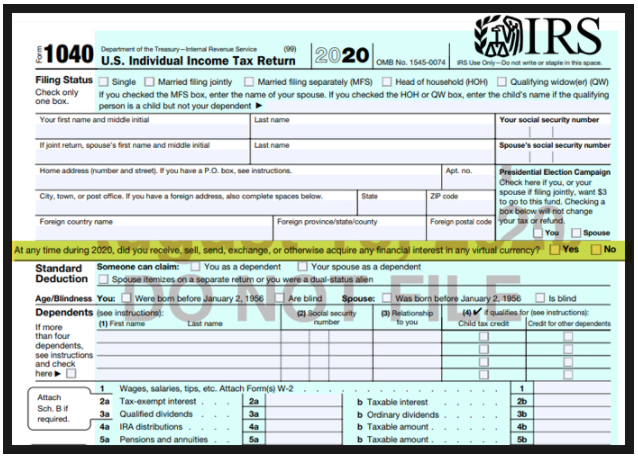 The U.S. Internal Revenue Service (IRS) intends to ask every American tax filer about their cryptocurrency transactions and investments in 2020 filing. This was revealed in a draft Form 1040 released by the IRS for U.S. individuals to file their income tax return for 2020.
After asking for personal details, the draft form asks, "At any time during 2020, did you receive, sell, send, exchange, or otherwise acquire any financial interest in any virtual currency?"
This is the latest move by the tax regulator to show its seriousness on taxing cryptocurrency transactions and investments. The form and instructions are only a draft, which are generally subject to approval by The Office of Management and Budget (OMB) before they can be officially released.
The IRS continues to warn taxpayers, who do not properly report virtual currency transactions, that they will be liable for tax, penalties and interest and in some cases they could be subject to criminal prosecution.
The IRS treats virtual currency as a commodity or property, and not as real currency, for federal tax purposes. Therefore, virtual currencies are also subject to capital gains laws.
The current guidance for taxpayers is to file each and every transaction executed using a cryptocurrency. The IRS has also increased enforcement activities against taxpayers who "misreport" their cryptocurrency transactions.
Last year, the IRS had sent out multiple compliance letters to investors of virtual currencies such as Bitcoin, whose tax return information did not match data reported to the IRS by third parties such as employers and banks.
Earlier in July 2019, the IRS had sent letters to crypto investors advising them to report and pay income taxes or file amended returns for transaction not reported properly. These were "educational letters" to more than 10,000 taxpayers to encourage them to make the filing or amend their filing.
For comments and feedback contact: editorial@rttnews.com

Markethive Advertisement
Article written by an RTT News Staff Writer, and posted on the RTT News.com website.
Article reposted on Markethive by Jeffrey Sloe
Visit MarketHive to learn more: http://markethive.com/jeffreysloe