Manny Pacquiao vs. Keith Thurman fight prediction, odds, tale of the tape, expert pick, complete breakdown
It's a huge welterweight showdown from the MGM Grand Garden Arena in Las Vegas on Saturday night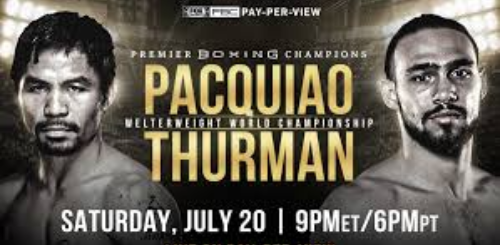 It's 2019 and Manny Pacquiao is back in the A-side role of a pay-per-view fight in Las Vegas.
In a true testament to the greatness and longevity of the 24-year professional, Pacquiao will enter Saturday's title bout against unbeaten WBA welterweight champion Keith Thurman as the betting favorite when the two touch gloves inside the MGM Grand Garden Arena (Fox PPV, 9 p.m. ET).
For the 40-year-old Pacquiao, the only fighter in boxing history to win titles in eight divisions, the fight moves him one step closer to proving he's the best 147-pound fighter in a crowded and dangerous division. It would also help cement even further his Hall of Fame resume with a victory over a prime and powerful opponent who lacks nothing in terms of speed and technique.
It may come as no surprise that the 30-year-old Thurman isn't expecting to roll over for the Filipino icon. The brash champion, known as "One Time," has predicted a knockout of Pacquiao and has willingly stated his intention to retire him.
"I say I'm going to put him to sleep because I've got power," Thurman said during Wednesday's final press conference. "I want to remind the world of something, something very simple: I'm Keith 'One Time' Thurman. I have the name for a reason, not a short season.
"Manny isn't going to do anything. With the little 'T-Rex' arms. He's about to get beat up. I get to punch a Senator in the face and he's going to feel it. If he's upset about it, he can do something about it Saturday night. It's called swing, swing, swing baby."
True to form, Pacquiao has been anything but offended and has brushed off the trash talk in favor of focusing on his hopes for a toe-to-toe clash that excites the fans.
"For me, nothing is personal," Pacquiao said. "I have to do my job and there is nothing personal with him. Our job is to fight and he has to prove something, and I have to prove something. That's why I'm so motivated for this fight and this training camp."
The fight will take place in the gambling capital of the world, however, and Thurman hasn't hidden from the fact that he has placed a substantial bet on himself to score an early knockout.
"I'm a winner in life, and to bet on myself to win in the opening rounds," Thurman said. "It makes me do what I said earlier, which is swing, swing, swing. You've got to swing to hit a home run. You can't just sit there and pump fake all day."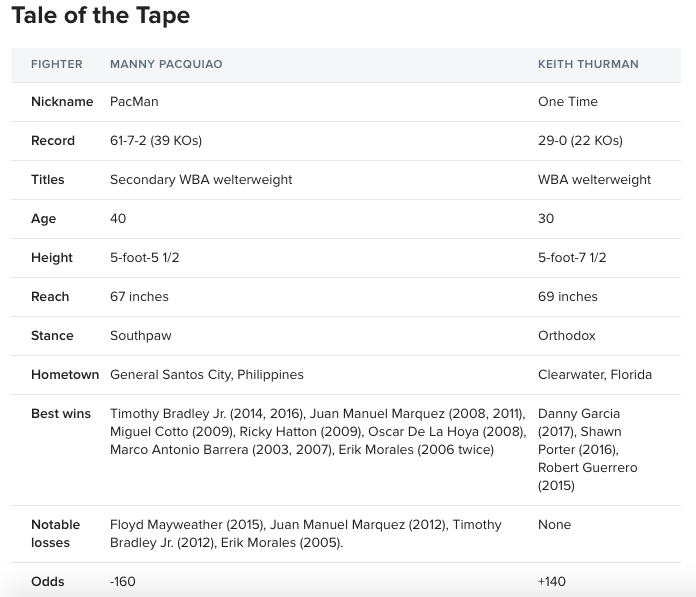 What's at stake
The two fighters will unify the WBA welterweight title thanks to said sanctioning body's decision to promote multiple titles in the same division. Pacquiao, who holds the WBA's secondary version, has never held the WBA's full title and lost his shot at winning it in his 2015 unification bout with Mayweather.
Along with Thurman's world title, the winner will get the opportunity to likely face whoever comes out of the September unification fight between Errol Spence Jr. and Shawn Porter. Because of the questions facing each fighter coming in (from Pacquiao's age to Thurman's recent layoff and his shaky performance against Josesito Lopez in January), the idea that both are competing for their fighting future on the elite level also isn't out of the question.
Even though Thurman is an established champion who owns career-defining wins over Porter and Garcia, this fight also offers him a shot at potential crossover stardom should he be able to win in defiant fashion in front of a large PPV audience.
To read the original and complete article go to the CBS Sports site. Original article was written by Brian Campbell.
Who has the edge in power, speed, technique, defense and intangibles? Find the answers to these questions by reading the complete article. Use the link above. You can also read the author's fight "prediction" and pick in that article.
Are you looking for a way to watch the fight, but don't want to pay the high Pay-Per View price? Give NUmedia's streaming media service a try! I'm NOT sure the fight will be streaming on NUmedia, but it's worth a try as Pay-Per View is one of their many features.
Signup for a 7-day FREE trial to watch Live HDTV channels, Videos on Demand, Spanish Channels, International Channels and Pay-Per View.
Article re-posted on Markethive by Jeffrey Sloe
Visit MarketHive to learn more: http://markethive.com/jeffreysloe