Lamborghini To Trace, Certify, Authenticate Heritage Cars On Blockchain
By RTTNews Staff Writer | Published: 11/21/2019 9:42 AM ET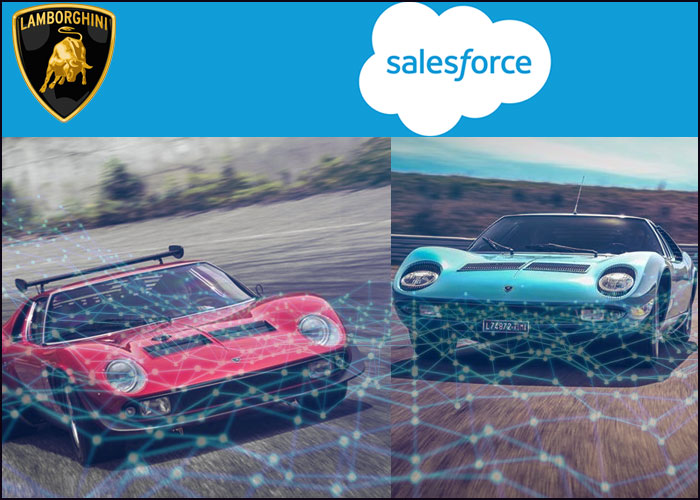 Italy's Automobili Lamborghini has teamed up with Salesforce.com, Inc. to trace, certify and authenticate Lamborghini's heritage cars on blockchain. Lamborghini will use Salesforce blockchain for this purpose.
This move to use blockchain technology is expected to increase the customer experience and maintain the value of Lamborghini's heritage vehicles. This will also be a good substitute for the grueling manual process of certification.
Currently, the vehicle often goes through 800 to 1,000 certification checks when a Lamborghini is resold, which take place at the Lamborghini headquarters in Sant'Agata Bolognese, Italy.
To provide the certifications, Lamborghini technicians work with a massive network of resources including photographers, auction houses, dealerships, repair shops, newspapers, magazines and other media sources. This will help to curate the full history and also verify all of the parts and service of each unique vehicle.
A platform powered by Salesforce Blockchain will enable Lamborghini to quickly and securely authenticate heritage Lamborghini cars for its customers. It will create a trust network between distributed partners to enable Lamborghini to authenticate each heritage vehicle faster and more securely than ever before.
Lamborghini is digitizing its authentication process for its luxury heritage vehicles, with each vehicle coming with an immutable record of service, including restoration, prior ownership and more.
With the authentication checks being managed by Lamborghini and its trusted partner network, each car is armed against potential counterfeiting to ensure that these vehicles become even more valuable throughout their lifespan.
For comments and feedback contact: editorial@rttnews.com
Article written by an RTT News Staff Writer, and posted on the RTT News.com website.
Article reposted on Markethive by Jeffrey Sloe
Visit MarketHive to learn more: http://markethive.com/jeffreysloe