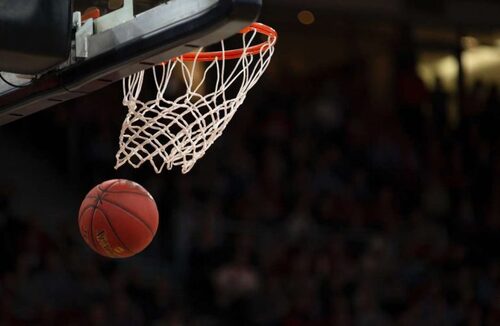 Tron (TRX) Offers to Assist S. Dinwiddie in His $24.6M Crowdfunding
John P. Njui • TRON (TRX) News • May 18, 2020 • 2 Min read
In brief:
Basketball star, Spencer Dinwiddie, floated the idea of his fans crowdfunding $24.6M to determine his next NBA team.
The Tron foundation offered to help by cutting out the middleman that is GoFundMe.
Spencer Dinwiddie and Justin Sun have shown willingness to work together despite the GoFundMe effort having been deactivated.
Democratizing sports might just happen in the near future.
Late last week, NBA star Spencer Dinwiddie, posted a $24.6 Million Bitcoin (BTC) crowdfunding campaign on GoFundMe to get his fans involved in determining his future basketball team after the 2020-21 season. The initial tweets by Mr. Dinwiddie expressing his idea can be found below.
Tron Foundation Offers to Assist in the Crowdfunding
Spencer Dinwiddie soon opened a GoFundMe account where the crowdfunding was hosted. The Tron Foundation soon offered to help Spencer Dinwiddie bypass the middleman that is GoFundme. The team at Tron elaborated that such a move on the Tron blockchain would guarantee all the funds were utilized as intended.
Hi @SDinwiddie_25, we can help you and allow you to cut out the GoFundMe middleman to put 100% of your fans' hard-earned crypto to work. #TRX Just ask @justinsuntron!
Spencer Dinwiddie soon responded to the offer with a simple 'let's make it happen then!'. His response and that of Justing Sun can be found in the tweets below.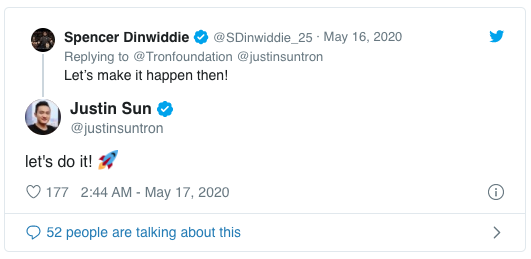 Crowdfunding Falls Short, Amount Raised Donated to Charity
The GoFundMe page which was opened on Friday, May 15th, has since been deactivated with only $1,150 raised. Mr. Dinwiddie was optimistic about the idea of decentralizing sports but was also realistic that his target might not be reached. He further explained that he would donate all the funds raised since Friday.
Woke up this morning and saw we reached about 100 individual donors and a lil over $1k. We also had some fun with #NBATwitter lol

I'll be donating the proceeds to @ReadWorks, a 501(c)3 organization that supports remote learning efforts for teachers and students during COVID-19.
What Next for Spencer Dinwiddie and the Tron Foundation?
With the crowdfunding on GoFundMe deactivated, not much has been revealed as to whether Spencer Dinwiddie and Justin Sun discussed the matter further. However, the entire idea of letting fans decide the future of their favorite player is a step forward in decentralizing sports. As Dinwiddie put it, it is Democratizing Team choice through fan engagement.
Democratizing Team choice seems fair.

Taking the minimum is solely to help the roster construction and add talent.

Ppl always take discounts to build super teams. I view this as an endorsement and fan engagement. Let's see what the CBA says
(Feature image courtesy of Unsplash.)
Disclaimer: This article is not meant to give financial advice. Any additional opinion herein is purely the author's and does not represent the opinion of Ethereum World News or any of its other writers. Please carry out your own research before investing in any of the numerous cryptocurrencies available. Thank you.

Markethive Advertisement
Original article posted on the EthereumWorldNews.com site, by John P. Njui.
Article re-posted on Markethive by Jeffrey Sloe
Visit MarketHive to learn more: http://markethive.com/jeffreysloe