A Top Executive Thinks Bitcoin BTC Can Surge 500 In 12 Months
A Top Executive Thinks Bitcoin (BTC) Can Surge 500% In 12 Months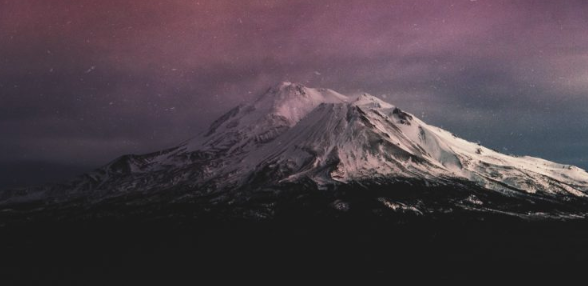 Bitcoin to Hit $50,000 By EOY?
Speaking with Bloomberg, Antoni Trenchev, head of Bitcoin lending platform Nexo, was quoted as saying that he expects for Bitcoin to "very easily" hit $50,000 — more than 500% above current prices — sometime in 2020. Trenchev didn't give much reasoning to back this lofty prediction, only stating that he believes BTC is an "incredible" asset that isn't correlated with any other markets.
Though, Trenchev's prediction of $50,000 lines up with a price model created by PlanB, a pseudonymous quantitative cryptocurrency analyst working in traditional markets.
His so-called stock-to-flow model, which relates BTC's price to the scarcity of the asset to a statistical accuracy of a 95% R squared, suggests that after the May 2020 block reward halving, the fair price of the cryptocurrency will rise to at least $55,000.
Although some have laughed at the model, suggesting that it is pure coincidence that Bitcoin's price moves in tandem with its level of scarcity, the model has been lauded by many cryptocurrency investors as the best way to explain the craziness seen in this nascent market.
Hold Your Horses, Analysts Say
While there is some evidence to suggest Bitcoin will explode that high in the coming months, the consensus is that the following 12 months will be one of steady growth for the cryptocurrency market, not crazy, parabolic growth as Trenchev suggests.
Dave the Wave, a popular cryptocurrency trader, recently noted that Bitcoin may see some bearish price action in the near term, but will soon restart its long-term bull trend that will bring it to $25,000 — 270% higher than current prices — by the start of 2021.
He specifically cited a five-wave Elliot Wave bull run, which will see Bitcoin bottom in the next few weeks before a surge to $25,000, see a brief correction, then finish the bullish run above $100,000 in a few year's time, not within the coming year.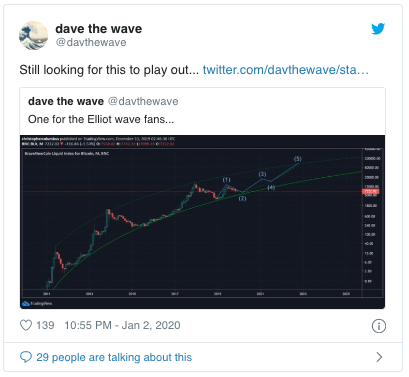 This was followed by another prediction, in which Dave stated that he expects Bitcoin prices to tighten in the first half of 2020, then break out in the second half of next year to near the $20,000 all-time high. By early-2021, he expects the price of the leading cryptocurrency to have posted "new sustainable all-time highs."
Also, Mike Novogratz, the former Wall Streeter turned cryptocurrency fund manager and investor, said that he expects Bitcoin to hit $20,000 in 18 months' time. This would represent a 180% move from current levels if it plays out.
Original article posted on the EthereumWorldNews.com site, by Nick Chong.
Article re-posted on Markethive by Jeffrey Sloe
Visit MarketHive to learn more: http://markethive.com/jeffreysloe