Altcoins Terra, Arweave, Tezos and Solana Soar
After a September slump, altcoins are back on the rise.
By Decrypt Staff 2 min read • Oct 3, 2021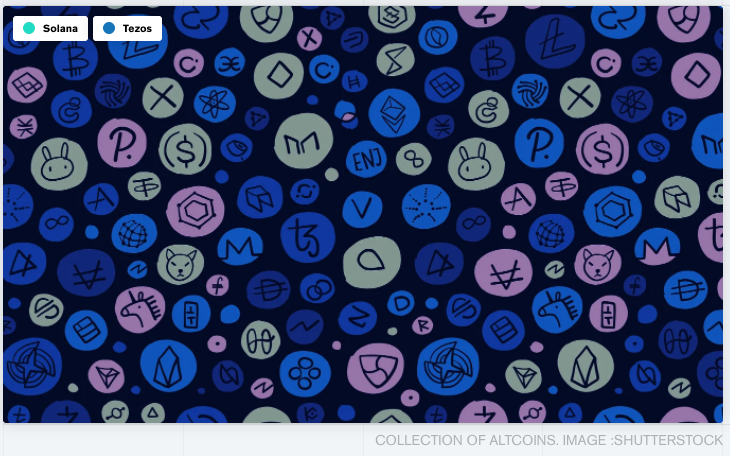 Altcoins are on the up. Tezos is up 23% in the past 24 hours to $8.7, Terra is up 15% to $43, Arweave is up 15% to $56 and Solana is up 8% to $171.
Combined, the rise of the coins, which apart from Solana have market caps well under $10 billion, helped notch up the market cap of the entire crypto market by 2.2% in the past day.
Tezos (XTZ), a proof-of-stake blockchain network, reached an all-time high of $8.83 this morning. The rise started on Wednesday, when XTZ was worth just $5.51. This month, Tezos hit 5.8 million contract calls, breaking last month's record of 3.2 million.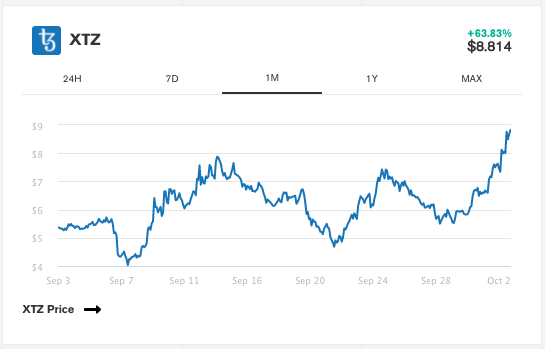 Terra (LUNA), a blockchain network that powers an algorithmic stablecoin, is up 15.69% on the day and 20.35% on the week. On Thursday, Terra launched a network upgrade called Columbus-5. The upgrade stopped transferring burned LUNA to community pools in order to maintain TerraUSD's peg to the US dollar. Instead, the coins are burned forever. The upgrade also furthered Terra's integration with the multi-chain Cosmos ecosystem.
Arweave (AR), a decentralized storage project, is up 15% in the past 24 hours and 27% in the past week. In August, Arweave rose 66% in a week as NFTs boomed. NFT sales dwindled shortly thereafter but the market has begun to pick back up. On Friday, Arweave announced that it would integrate The Graph, a decentralized protocol for sorting information on blockchains and allowing people to query Web 3.0 APIs.
Solana is up 8% in the past day and 27% in the past week. The high-speed, low-cost blockchain has shot up in value over the summer because its smart contract functionality allows traders to do the same things on Ethereum dApps at a fraction of the cost. On Friday, Solana NFTs hit a market cap of $1 billion.
Crypto behemoths Bitcoin and Ethereum remained stable, capping off a week of tremendous growth. Bitcoin is up 0.4% in the past day to $47,919 and 11.35% on the week after a momentous jump on Friday. Ethereum, which joined Bitcoin in its rise, is up 3.46% on the day to $3,402 and up 14.91% on the week.
In the backdrop of the rise is China's shift to decentralized finance protocols after the government issued (another) blanket bank earlier this month; a market that's no longer bowled over by the $300 billion Evergrande debt crisis; a new financial quarter bringing fresh allocations to cryptocurrencies, and a U.S. stock market that's recovering from a September slump.
DISCLAIMER
THE VIEWS AND OPINIONS EXPRESSED BY THE AUTHOR ARE FOR INFORMATIONAL PURPOSES ONLY AND DO NOT CONSTITUTE FINANCIAL, INVESTMENT, OR OTHER ADVICE.

Markethive Advertisement
Original article posted on the Decrypt.co site, by Decrypt Staff.
Article re-posted on Markethive by Jeffrey Sloe