Binance Coin BNB Becomes the 3rd Crypto With a Market Cap Over 100B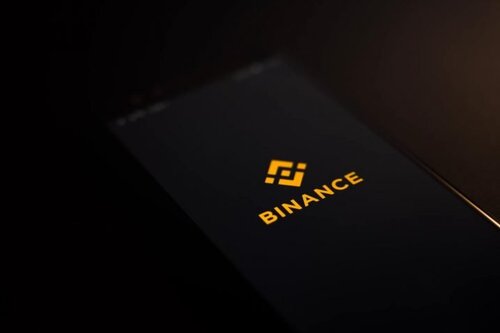 Binance Coin (BNB) Becomes the 3rd Crypto With a Market Cap Over $100B
JOHN P. NJUI • BINANCE (BNB) NEWS • MAY 3, 2021
Binance Coin has become the third digital asset with a market cap above $100 Billion
BNB's market cap currently stands at $100.74 Billion
Binance Coin is now worth more than Zoom, SnapChat, AirBus and GlaxoSmithKline
Binance Coin printed a new all-time high of $666 – Binance rate – and could keep growing
The digital asset of Binance Coin (BNB) has just hit a new milestone by becoming the third digital asset, after Bitcoin and Ethereum, to have a market capitalization above $100 Billion.
At the time of writing, Binance Coin has a market capitalization of $100.74 Billion as seen in the following screenshot courtesy of Coinmarketcap.com.

Binance Coin (BNB) is Now Bigger than Zoom, SnapChat, AirBus and GlaxoSmithKline
To understand the magnitude of BNB's achievement in reaching the $100 Billion club, the digital asset is now worth more than the following 'traditional' companies in terms of market capitalization.
AMD – $96.30 Billion
Daimler – $95.70 Billion
GlaxoSmithKline – $94.57 Billion
Airbus – $93.57 Billion
Zoom – $92.42 Billion
Snapchat – $90.86 Billion
Binane Coin Sets a New All-time High of $666
Binance Coin (BNB) reaching a market cap above $100 Billion was the result of the digital asset hitting a new all-time high of $666 earlier today. BNB's current price action is within a bullish trend as seen through the following 1-day BNB/USDT chart.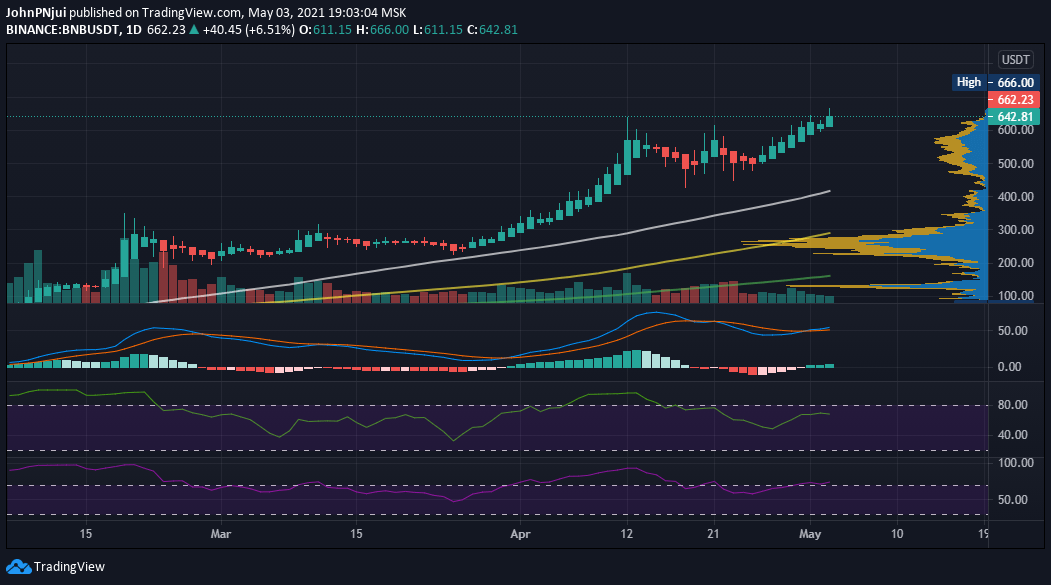 From the chart, it can be observed that the daily MACD has crossed in a bullish manner above the baseline. However, its histograms are a bit too short for a confident continuation of the current upward trajectory. In addition, trade volume is reducing hence the possibility of BNB to undergo a correction in the hours or days to follow.
However, the daily MFI and RSI are yet to venture into overbought territory at values of 69 and 74. Therefore, Binance Coin could be gearing up for some consolidation above the $620 to $640 support zone in preparation for another drive towards new all-time highs.
If the latter scenario plays out, Binance Coin (BNB) could be on a path towards breaking $700 in the next few weeks if not days.
As with all analyses of altcoins such as BNB, traders and investors are advised to use low leverage and stop losses when trading Binance Coin on the various derivatives platforms.

Markethive Advertisement
Original article posted on the EthereumWorldNews.com site, by John P. Njui.
Article re-posted on Markethive by Jeffrey Sloe
Visit MarketHive to learn more: http://markethive.com/jeffreysloe