Bitcoin Breaks 10K and 3 Weeks Before One BTC Prediction
Bitcoin Breaks $10K and 3 Weeks Before One BTC Prediction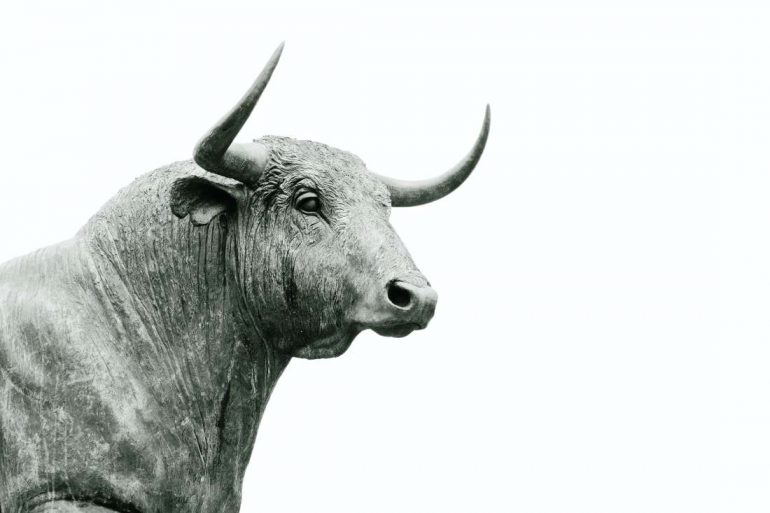 John P. Njui • BITCOIN (BTC) NEWS • JULY 26, 2020
Quick take:
Bitcoin has bulldozed the $10K psychological price level before dropping back to $9,900.
This move by Bitcoin had been predicted by Timothy Peterson of Cane Island Alternative Advisors.
His prediction had set a mid-August date for Bitcoin breaking $10K.
BTC has achieved this feat 3 weeks ahead of schedule.
The VISA, Mastercard, Paypal and OCC news could be behind Bitcoin's bullishness.
Sundays are usually slow days in the crypto markets with many traders expecting sideways movement from Bitcoin (BTC) or a catastrophic dip. However, Bitcoin has done the opposite only moments ago when BTC wicked hard from the $9,700 price level to $10,115 – Binance rate.
With this quick move, Bitcoin has broken the psychological price level of $10,000. However, the King of Crypto has since dropped down to $9,970 as crypto traders attempt to figure out BTC's next move.
A $10K Bitcoin Had Been Predicted, But by Mid August
The exciting move by Bitcoin above $10,000 had been predicted by Timothy Peterson, an Investment Manager at Cane Island Alternative Advisors. Mr. Peterson had predicted that BTC would retest $10,000 by mid-August. His prediction was based on his use of Metcalfe's law. He made this prediction on July 1st via the following tweet.
#Bitcoin #10KCountdown is inspired by this price prediction from a popular (but not knowledgeable) bitcoiner. Using Metcalfe's law, I will show how predictable bitcoin's price is (within statistical margins). We're 49 days away. pic.twitter.com/VBnvNzsB0i

— Timothy Peterson (@nsquaredcrypto) July 1, 2020
Metcalfe's law is usually used in the telecommunications industry and states that the effect of a telecoms network is proportional to the square of the number of connected users of the system. Mr. Perteson has expanded this law to analyze Bitcoin and has even published a research paper about it.
He has since provided a glimpse of how he uses it to calculate Bitcoin's value via the following tweet only hours ago.
#bitcoin #10KCountdown demonstrating that Metcalfe's Law determines bitcoin's value (and #ethereum, and #chainlink, and #twitter, and #facebook, and #google, and the internet, and #apple…) pic.twitter.com/BH4WsLXrVW

— Timothy Peterson (@nsquaredcrypto) July 26, 2020
What Next for Bitcoin (BTC) in the Crypto Markets?
Bitcoin's surge above $10K has returned BTC to pre-Covid19 levels last seen in late February. To note is that the CME Bitcoin futures are still paused at Friday's price of $9,600. Additionally, the CME futures expire this Friday, 31st July. Therefore, judging by past situations where there is a CME gap, Bitcoin will eventually dip down and fill it. To get a feel as to when this might happen, it is worth looking at the daily BTC/USDT chart.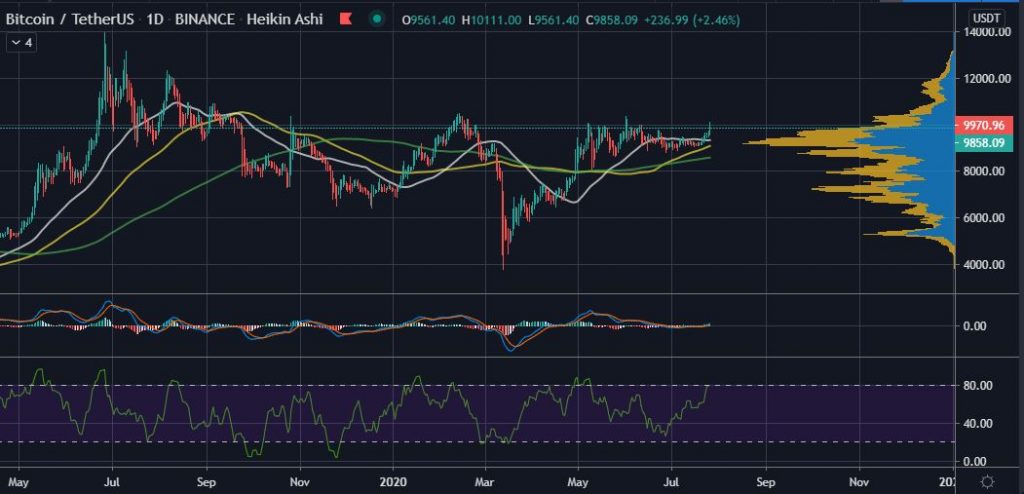 (Click image for larger view)
From the daily Bitcoin chart, the following can be observed.
Bitcoin's price at $9,970 is above the 50-day, 100-day and 200-day moving averages, thus pleading the case for a bullish environment.
MACD has crossed in a bullish manner around the baseline pointing that Bitcoin could continue pushing higher to retest $10,115.
However, the daily MFI is high at 80 pointing to future sideways movement or a retracement.
The mentioned moving averages provide adequate support at $9,300, $9,050 and $8,600 respectively.
Furthermore, Bitcoin could remain in bullish territory as a result of the news of VISA, Mastercard and Paypal planning on supporting crypto transactions. Additionally, the news of US banks being greenlighted to offer crypto custody solutions will provide much-needed fuel for BTC to rebound if it drops to fill the CME gap.
As with all analyses of Bitcoin, stop losses and low leverage are advised when trading BTC during volatile times.
Disclaimer: This article is not meant to give financial advice. Any additional opinion herein is purely the author's and does not represent the opinion of EWN or any of its other writers. Please carry out your own research before investing in any of the numerous cryptocurrencies available. Thank you.

Markethive Advertisement
Original article posted on the EthereumWorldNews.com site, by John P. Njui.
Article re-posted on Markethive by Jeffrey Sloe
Visit MarketHive to learn more: http://markethive.com/jeffreysloe