Bitcoin Falls Sharply After Mysterious 1bn BTC Transfer to Gemini Exchange
Bitcoin Falls Sharply After Mysterious $1bn BTC Transfer to Gemini Exchange
By Yashu Gola – March 15, 2021 in Bitcoin Reading Time: 2min read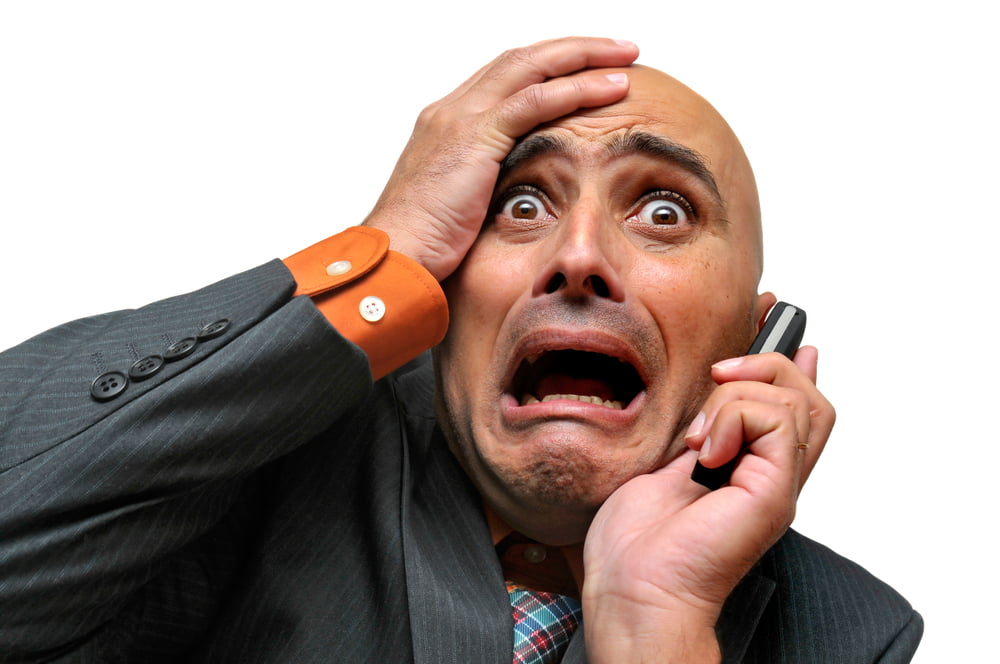 Bitcoin fell more than 7 percent on Monday after a whale deposited 18,000 BTC into a Gemini wallet.
The flagship cryptocurrency dropped to an intraday low of $54,568 at 0940 UTC, down 7.47 percent into the European session. Its correction started on Sunday after the price reached a new record high above $61,000. Traders used the refreshed peak to secure their profits, leading the prices lower. Nonetheless, the sell-off accelerated after the said Gemini deposit.
A $1 Billion Bitcoin Sell-Order
Analysts across the cryptocurrency market interpreted the $1 billion transfer to the US exchange as a sign of a major dump ahead. CryptoQuant CEO Ki-Young Ju was quick to point out the correlation between higher Bitcoin inflow and its spot prices. He published a chart that showed a spike in Gemini's Bitcoin inflow on February 21, which followed a downside correction of more than 26 percent.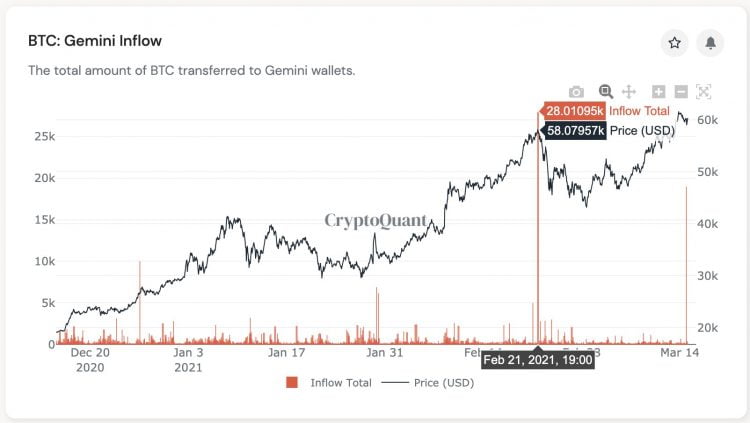 Bitcoin painted two high-volumed red candles on its four-hour chart just as the Gemini news went viral across social media, illustrating panic selling among retail traders. On the whole, the cryptocurrency shed almost 10 percent, or about $6,000, of its valuation in the previous six hours.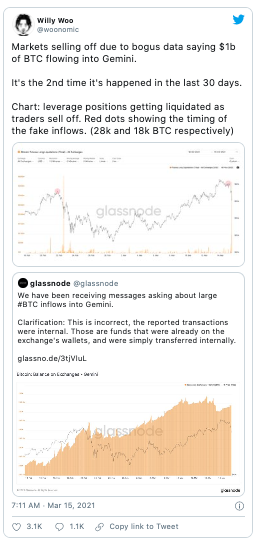 Analysts interpret massive inflows into cryptocurrency exchanges as a bearish signal. Traders typically transfer Bitcoin to their exchange wallets because they want to trade them later to rival cryptocurrencies or fiat currency. Conversely, they withdraw bitcoins from their exchange addresses if they want to hold the cryptocurrency.
"This 18k BTC deposit is legit as it was a transaction between user deposit wallets and Gemini hot wallet," noted Mr. Ju. "All Exchanges Inflow Mean is skyrocketed due to this deposit. Don't overleverage if you're in a long position."
Around $1.41 billion worth of long entries got liquidated in the last four hours, according to "rekt" data provided by ByBt.com.
"Volatile Retest"
Technical chartists shifted their downside targets to the lower $50,000s following its sharp decline Monday.
An independent analyst noted that the BTC/USD exchange rate could fall towards $51,860, a level that served as resistance during the pair's rebound from the year-to-date low near $43,000. That is partly because of BTC/USD's drop below its local support area around $58,000 (the redded range in the chart below).

Bitcoin slips below concrete support range, as spotted by Rekt Capital. Source: BTCUSD on TradingView.
"The day is still young so [the] price could still resolve itself relative to this red boxed area and turn it into support," the analyst added. "Technically, BTC is in the process of a volatile retest."
Short-term, Bitcoin was testing its 50-day simple moving average wave as support.


Markethive Advertisement
The original article was written by Yashu Gola and posted on NewsBTC.com.
Article reposted on Markethive by Jeffrey Sloe
Visit MarketHive to learn more: http://markethive.com/jeffreysloe