Bitcoin is Now More Valuable
Bitcoin is Now More Valuable Than a Kilogram of Gold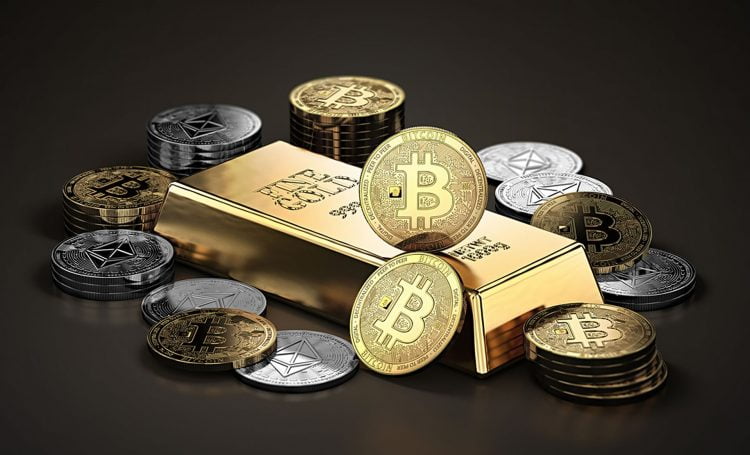 JOHN P. NJUI • BITCOIN (BTC) NEWS • MARCH 20, 2021
Quick take:
Bitcoin at a value above $58,400 is worth more than a kilogram of gold
Bitcoin's market cap at over $1 Trillion has made it hard to ignore and could usher in a new phase of growth
$55k is the level to watch during the weekly close
News of Coinbase being fined by the CFTC might have a negative effect on Bitcoin during the weekly close
Bitcoin is now worth more than a kilogram of Gold. This is according to data by the team at Documenting Bitcoin who compared Bitcoin's value at $58,700 to that of a kilogram of gold currently going for $58,400. The team shared their comparison of the two assets via the following tweet.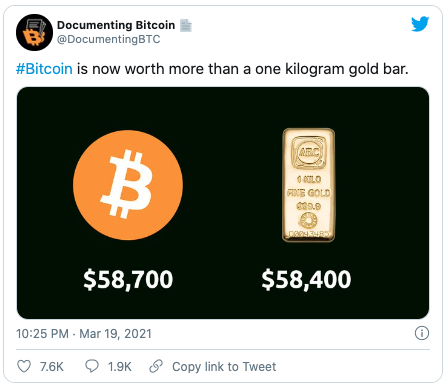 Bitcoin's Market Cap of $1T Makes it Too Important to Ignore
In a recent market report, the team at Deutsche Bank Research concluded that Bitcoin reaching a $1 Trillion market capitalization, has made it too important to ignore. Additionally, its value will continue to increase through the 'Tinkerbell Effect' as explained below.
Bitcoin's market cap of $1 trillion makes it too important to ignore. Big players who buy and sell bitcoins have considerable market-moving power. As long as asset managers and companies continue to enter the market, Bitcoin prices could continue to rise.

Bitcoin's value will continue to rise and fall depending on what people believe it is worth. This is sometimes called the Tinkerbell Effect — a recognised economic term stating that the more people believe in something, the likelier it is to happen based on Peter Pan's assertion that Tinkerbell exists because children believe she exists.
$55k is the Level to Watch During Bitcoin's Weekly Close
At the time of writing, Bitcoin is trading around the $58,800 price area and could be gearing up for another push towards $60k if the market conditions allow. However, news of Coinbase being fined $6.5 million by the CFTC for wash trading, might have a slightly negative effect on Bitcoin ahead of the weekly close.
During the latter event tomorrow, the $58k support area is likely to be tested. If this area fails to hold, Bitcoin could be headed to other familiar support zones at $55k, $52k, $50k and even $48k.

Markethive Advertisement
Original article posted on the EthereumWorldNews.com site, by John P. Njui.
Article re-posted on Markethive by Jeffrey Sloe