Bitcoin Spikes 10 in Minutes Up to 10800 From 9100 Bottom
Bitcoin Spikes 10% in Minutes, Up to $10,800 From $9,100 Bottom

Bitcoin Spikes Higher in Unexpected Surge
Wow, well that was quick. In the past two hours, Bitcoin (BTC) has gained over 10%, rallying from $9,400 to $10,600. Most of this rally actually took place in a few minutes, with the cryptocurrency gaining around $800 of that move higher in a matter of a single five-minute candle. To say that the crypto market is volatile is an understatement, that's for sure.

Per Kruger, this rally was entirely unexpected. "No technical analysis could have predicted that squeeze until it was already half way under way. Bears were fully in control until slightly past 10:30 EST," he wrote on Twitter.
This 10% spike is the latest in a series of moves that have cemented that volatility is back in the cryptocurrency markets. As industry analytics provider Skew points out, Bitcoin realized volatility levels are "back to levels not seen since the end of the great 2017 bull market."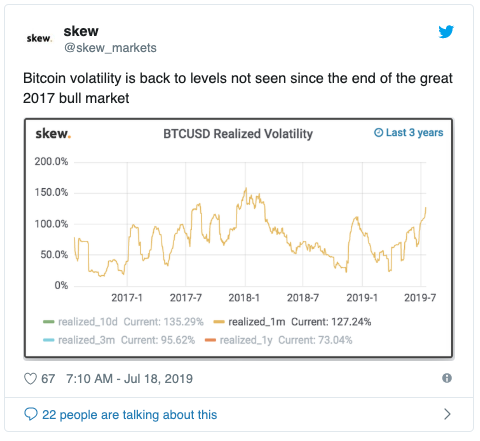 This strong surge to the upside comes after CryptoHamster drew attention to a number of reasons why Bitcoin dumping to $9,100 may be the end of the drop.
Firstly, the one-day Relative Strength Index (RSI) and the Stochastic iteration of this indicator are at their lowest levels since at least February, entering the "oversold" range. The one-day Moving Average Convergence Divergence (MACD) has tapped the zero level, despite the fact that Bitcoin is in a raging bull market according to most analysis.
Also, the Elder's Forse Index, an indicator meant to exhibit the strength of moves, is at its lowest since November 2018; and historical volatility is almost at 100%, implying a move to the upside to return volatility to levels deemed normal.
Despite all this, there are some that suggest BTC still needs to correct further to return to more sustainable levels. $8,000 seems to be the local bottom that most are keeping their eye on, but this recent boom may put a damper on a move to that level.
Original article posted on the EthereumWorldNews.com site, by Nick Chong.
Article re-posted on Markethive by Jeffrey Sloe
Visit MarketHive to learn more: http://markethive.com/jeffreysloe