Bitcoin's Biggest Whales Are in Decline
Bitcoin's Biggest Whales Are in Decline
But smaller whales are multiplying rapidly.
By Tim Hakki 3 min read • Oct 17, 2021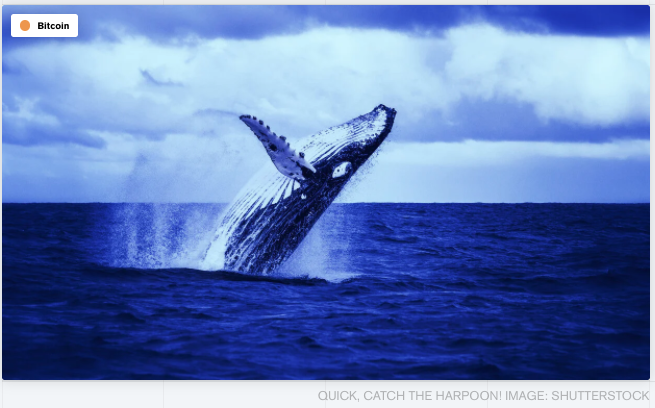 In brief
The number of Bitcoin whales holding 1,000 BTC or more has hit the lowest point since 2012.
Bitcoin whales holding 100-1,000 BTC have multiplied in the last five months.
Bitcoin has steadily been adopted by a number of institutions worldwide this year.
Some of crypto's rarest and largest ocean dwellers are quickly becoming endangered this year—in fact, the number of Bitcoin's biggest whales has dropped to its lowest point in history.
Blockchain journalist Colin Wu tweeted the data from blockchain metrics site Glassnode earlier this afternoon. As of today, the number of Bitcoin addresses holding 1,000 Bitcoins or more is at a record low of 82.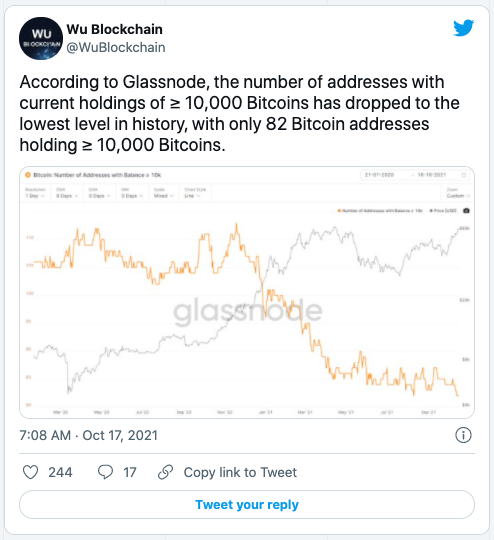 The last time this number was so low was on December 15, 2012, about four years after Bitcoin launched. Then, just 81 wallets held 1,000 Bitcoins or more, and each Bitcoin was worth $13.51. Today, the number one cryptocurrency by market capitalization is worth $60,757—roughly 450,000% higher than it was back in December 2012.
So does that mean that Bitcoin whales are a dying breed? Not quite. As Wu observed later in the Twitter thread, data from Sanbase records that "the number of addresses holding 100 to 1,000 BTC has increased significantly in the past five weeks."
Considering that 100 Bitcoins is worth just over $6,000,000—more than enough to be considered a Bitcoin whale—the data highlights that mid-tier Bitcoin whales have been on the rise since early September.
Several major industry developments may have triggered the gold rush. First is El Salvador's decision to accept the currency as legal tender on September 7 this year. The decision was taken in spite of overwhelming protest from both residents and the political opposition.
Crypto markets surged again this week in anticipation of tomorrow's launch of ProShare's Bitcoin Futures Exchange-Traded Fund. Things cooled off a bit today, but the ETF will be the first of its kind in the US, and will enable investors to get exposure to Bitcoin with all the safeguards of a regulated investment product. That's huge news for Bitcoin's institutional adoption in the US.
The latest rise continues Bitcoin's surge from earlier this year. On April 14, it set an all-time high of $64,863 before dwindling down to a 2021 low of $29,807 on July 20. Since then Bitcoin's been picking up, and at today's price it's not far off its former all-time high.
But according to research by crypto market maker B2C2, retail investors haven't been driving this recent rally—family offices have.
Over the summer, Goldman Sachs surveyed over 150 family offices and concluded that nearly a fifth of them were keen to explore crypto as a potential hedge against inflation, so B2C2's research might indicate a strengthening of their position with regards to crypto.
Goldman Sachs itself published a report in May calling Bitcoin a 'legitimate asset class'—a complete U-turn from its former position the previous year, that crypto was unambiguously not a legitimate asset class.
Perhaps the colossal Bitcoin humpbacks of old are a dying breed, but recent developments suggest that smaller whales are multiplying.
DISCLAIMER
THE VIEWS AND OPINIONS EXPRESSED BY THE AUTHOR ARE FOR INFORMATIONAL PURPOSES ONLY AND DO NOT CONSTITUTE FINANCIAL, INVESTMENT, OR OTHER ADVICE.

Markethive Advertisement
Original article posted on the Decrypt.co site, by Tim Hakki.
Article re-posted on Markethive by Jeffrey Sloe