Bookingscom Partners Travalacom For Payments In Cryptos
Bookings.com Partners Travala.com For Payments In Cryptos
By RTTNews Staff Writer | Published: 11/26/2019 9:51 AM ET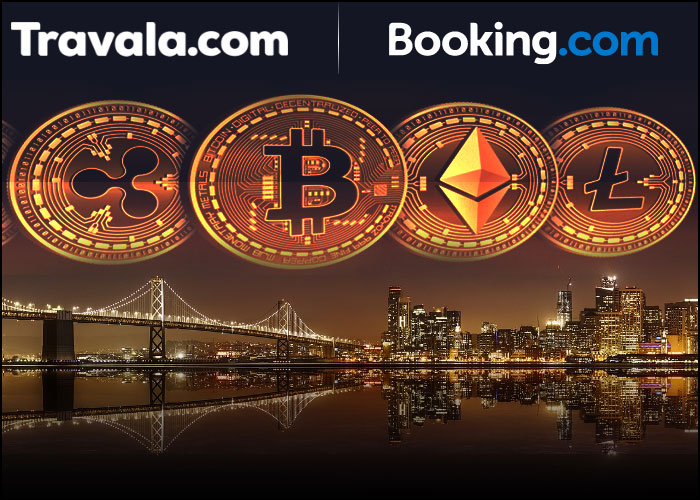 Online travel agency Booking.com entered into a deal with U.K.-based crypto-friendly travel booking platform Travala.com to enable payments in cryptocurriencies such as Bitcoin for its customers in addition to traditional payment methods.
Travala.com is offering over 2 million accommodation listings globally to bring cryptocurrency adoption to the masses. It has already integrated Booking.com's accommodation listings to its platform, which is now live in more than 230 countries and 90,000 destinations worldwide.
Travala.com is already providing the option to make payments on their site using more than 20 cryptocurrencies, including their own native AVA token, and also a stablecoin. They also accept payments in Fiat and through Paypal.
The cryptocurrencies currently acceptable for payments include Travala (AVA), Bitcoin (BTC), Litecoin (LTC), Bitcoin Cash (BCH), Ethereum (ETH), Ripple (XRP), Dogecoin (DOGE), Stellar Lumens (XLM), Binance (BNB), EOS (EOS), NEO and stablecoin TrueUSD (TUSD).
Travala.com offers users a consumer-based application of blockchain technology to provide a better-optimized booking platform and an equitable pricing model for consumers and hotel partners alike. Travala utilizes the NEO Blockchain.
For comments and feedback contact: editorial@rttnews.com


Markethive Advertisement
Article written by an RTT News Staff Writer, and posted on the RTT News.com website.
Article reposted on Markethive by Jeffrey Sloe
Visit MarketHive to learn more: http://markethive.com/jeffreysloe