Canadian Court Freezes Millions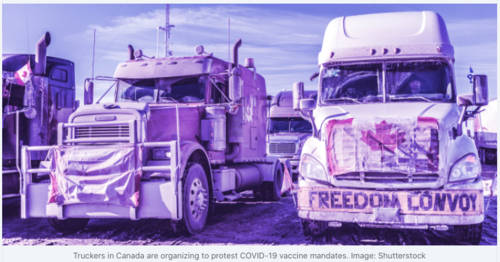 Canadian Court Freezes Millions in Convoy Protestor Funds—Including Bitcoin
An Ontario Superior Judge has frozen millions of dollars worth of funds—including cryptocurrency—amid ongoing protests in Ottawa.
By Scott Chipolina 3 min read • Jan 18, 2022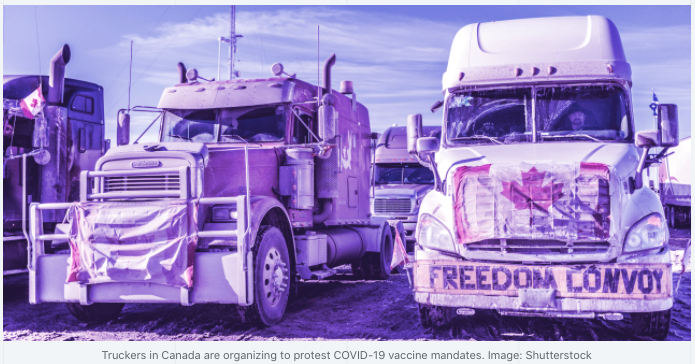 An Ontario Superior Court judge has issued an order to freeze millions of dollars in funds, including some in Bitcoin and other cryptocurrency, as Ottowa's convoy protests continue, per The Globe and Mail.
The freezing order—otherwise known as a Mareva injunction—was made late yesterday evening as part of the wider lawsuit filed against the convoy by the residents of Ottawa.
"I can confirm that this is the first successful. Mareva order in Canada targeting Bitcoin and cryptocurrency exchanges," Paul Champ, lawyer for the residents of Ottawa—the plaintiffs—told The Globe and Mail.
The Canadian government is involved in an ongoing effort to seize protestors' funds. The freeze order, a separate process, is aimed at potentially redistributing the funds—about $20 million at the time of writing—to Ottawa citizens. The redistribution would only occur if the lawsuit against the convoy succeeds.
The order was issued by Justice Calum MacLeod, who has told the convoy protestors that they are restrained from "selling, removing, dissipating, alienating, transferring," any of the assets that have been raised in relation to the ongoing protests.
Keith Wilson, a lawyer who is representing the convoy protestors, told The Globe and Mail via email today that "we have not been served with the order or related court documents."
Ottawa protests and Bitcoin
The protests in Ottawa—which have been going on for about three weeks now—began in protest against COVID-19 vaccine mandates.
The convoy, dubbed the "Freedom Convoy" by supporters, has congregated near Parliament Hill in Ottawa. The protestors, per The Globe and Mail, successfully raised about $10 million on a GoFundMe page before the fundraising platform took the page down.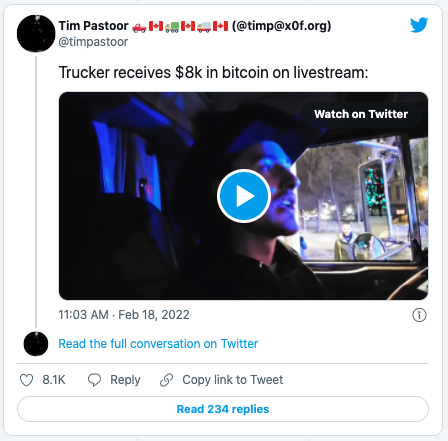 Since then, fundraising has become more inventive, with protestors increasingly reliant on cryptocurrencies.
Jordan Peterson, an outspoken Canadian public intellectual and supporter of the convoy, recently tweeted, "Thank God for Bitcoin."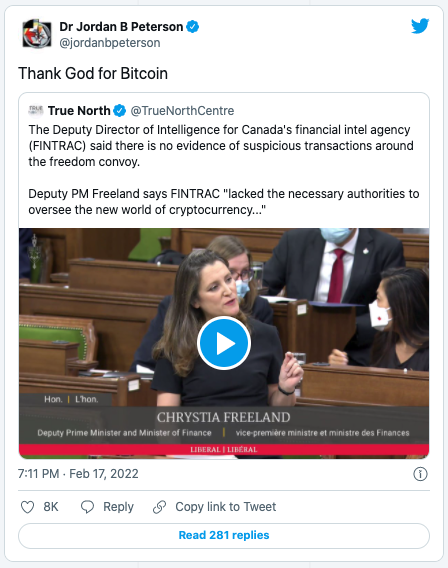 What does the Mareva order do?
The Ontario court's Mareva order specifically targets entities that have been confirmed as holding assets for the convoy itself—like established Canadian banks including TD Canada Trust and ATB Financial.
The order has also aimed its crosshairs at 150 cryptocurrency wallets. Jeffrey Booth, a Vancouver entrepreneur, has reportedly been named in the order.
"I'm a keyholder for this—that's it. I haven't raised a dollar. I haven't donated a dollar of my own and I'm not an organizer. I am just a keyholder in a decentralized platform," Booth told The Globe and Mail during an interview last week.
Those hit by the Mareva order are now compelled to provide the plaintiffs—the residents of Ottawa—with a "sworn statement" that describes the nature, value, and location of their financial assets.
Should an individual refuse to comply with this order, they may be found to be in contempt of court.
And turning to Bitcoin to circumvent any court order won't be easy. Earlier today, Kraken CEO Jesse Powell said the crypto exchange would be "forced to comply" with law enforcement, urging users to get their crypto off of the exchange if they are concerned.
"We will be forced to comply. If you're worried about it, don't keep your funds with any centralized/regulated custodian. We cannot protect you. Get your coins/cash out and only trade peer to peer," Powell tweeted.
DISCLAIMER
THE VIEWS AND OPINIONS EXPRESSED BY THE AUTHOR ARE FOR INFORMATIONAL PURPOSES ONLY AND DO NOT CONSTITUTE FINANCIAL, INVESTMENT, OR OTHER ADVICE.

Markethive Advertisement
Original article posted on the Decrypt.co site, by Scott Chipolina.
Article re-posted on Markethive by Jeffrey Sloe
** Get secure funding for business projects in the USA and around the world. Learn more about USA & International Financing at Commercial Funding International. **
Visit MarketHive to learn more: http://markethive.com/jeffreysloe