Canadian Government to Use Blockchain to Trace Steel Supply Chain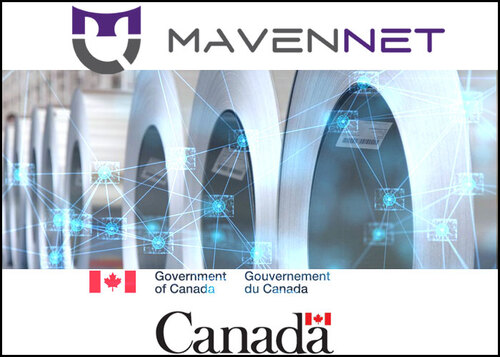 Canadian Government to Use Blockchain to Trace Steel Supply Chain
By RTTNews Staff Writer | Published: 1/21/2020 9:22 AM ET
The Canadian Government is planning to use blockchain technology and Artificial Intelligence (AI) to track the steel industry supply chain for Canadian and possibly North American business users and government.
The Innovation, Science and Economic Development Canada (ISED), a government agency, has awarded a C$169,427 or about $130,000 worth contract to Canadian enterprise blockchain start-up Mavennet Systems, Inc. to develop the digital tracing platform by combining the two technologies.
Canada's steel industry is a major international exporter, especially to the U.S.
The solution is intended to provide real-time insights and information to users within minutes of upload on smart phone and web interface, to digitally automate steel supply chain transactions.
The use blockchain technology is expected to ensure secure, accurate and transparency of data. It will also maintain a full digital trail in case of input errors. Users must be able to rectify mistakes by "adding onto the log", rather than deleting mistakes entirely.
Meanwhile, the use of AI enabled data analytics will better capture activities across the steel supply chain. Using AI will enable information on past, current and predicted demand for any input and output and predicting downstream product volume from supply products.
The platform is also expected to provide a comprehensive digital breakdown of the component parts of steel and steel products, such as coal, iron ore, nickel, steel scrap, and finished steel products.
In November last year, the U.S. Department of Homeland Security (DHS)'s Science and Technology Directorate (S&T) awarded a grant of $182,700 to Mavennet Systems to develop a blockchain-powered solution to track cross-border oil import.
Under the terms, Mavennet is required to modify its existing oil and gas tracking platform to meet the requirements of the U.S. Custom and Border Protection (CBP) to track cross-border oil imports.
The CPB expects the new platform to track the evidence of oil flow through pipelines and refinement between the U.S. and Canada and attribute oil imports with the accurate composition and country of origin.
For comments and feedback contact: editorial@rttnews.com
Article written by an RTT News Staff Writer, and posted on the RTT News.com website.
Article reposted on Markethive by Jeffrey Sloe
Visit MarketHive to learn more: http://markethive.com/jeffreysloe