Chainlink's Support Level to Watch
Chainlink's $15 Support is the Level to Watch During the Weekly Close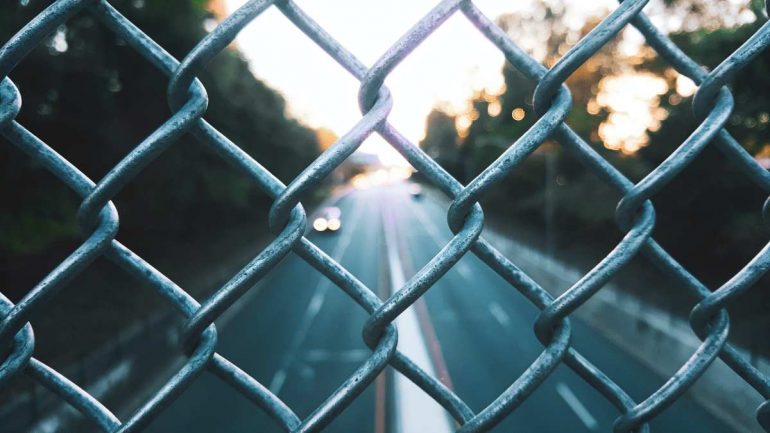 JOHN P. NJUI • CHAINLINK (LINK) NEWS • JULY 16, 2021
Chainlink has bounced off the $15 support for the third time since May
Chainlink continues to trade below the 50-day, 100-day and 200-day moving averages
The daily LINK/USDT has printed a descending triangle with a floor at $15
$15 is the level to watch as the week comes to a close on Sunday
Chainlink maintaining the $15 support might be tied to Bitcoin continuing to trade above $30k
A loss of the $15 support could open the doors to $13 or even $12
Earlier today, the digital asset of Chainlink (LINK) posted a local low of $15.125 as Bitcoin posted a daily low of $31k.
With this move, Chainlink has retested the $15 support zone for a third time since the 23rd of May this year. Chainlink also bounced off the $15 support on June 22nd as highlighted in the daily LINK/USDT chart below.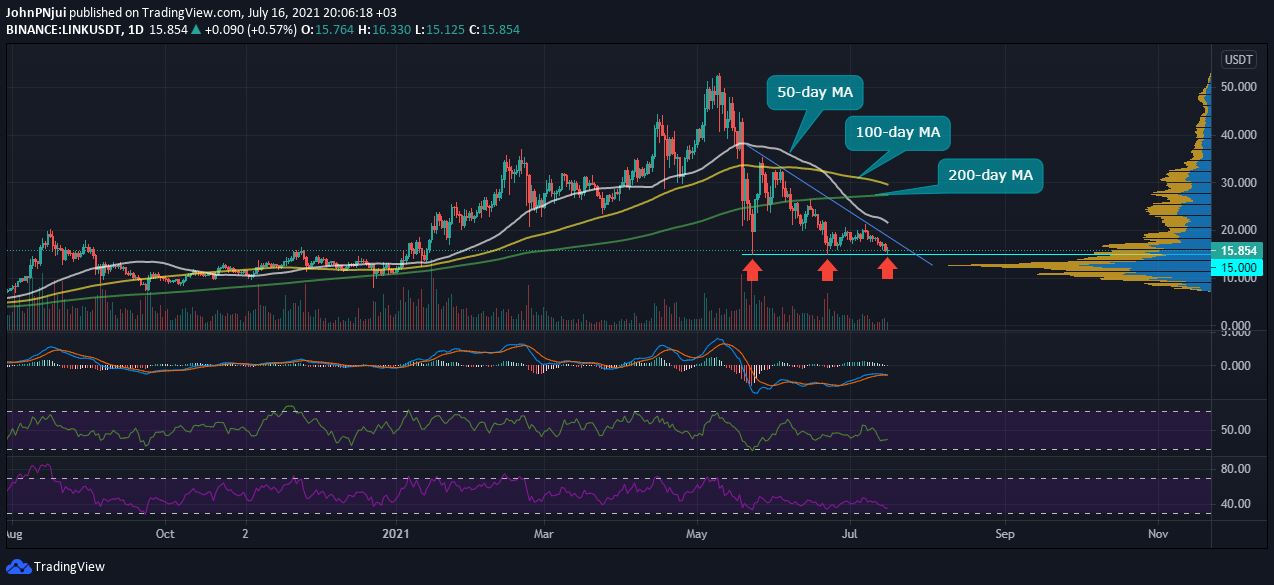 Also from the chart above, the following can be observed:
Chainlink remains in bearish territory as it trades below the 50-day, 100-day and 200-day moving averages
A descending triangle has formed on the daily LINK/USDT chart with a floor at $15
Chainlink's daily trade volume has been reducing since mid-May
The histograms of the daily MACD also confirm a reduction in trading of Chainlink in the crypto markets
The daily MACD also confirms an ongoing bearish scenario for LINK
The daily MFI and RSI are in neutral territory with a slight inclination towards a bearish continuation for Chainlink
Chainlink's $15 is the Level to Watch and Could be Tied to Bitcoin Maintaining its $30k Support
As earlier mentioned, earlier today Chainlink bounced off the $15 support area as Bitcoin experienced a daily low of $31k. Bitcoin is now trading at $32k as Chainlink hovers at the $15.80 price area.
To note is that Bitcoin has maintained the $31k to $30k price area as support since mid-May thus leading to the loose conclusion that Chainlink's fate above $15, is tied to Bitcoin maintaining a price above this crucial price area.


Markethive Advertisement
Original article posted on the EthereumWorldNews.com site, by John P. Njui.
Article re-posted on Markethive by Jeffrey Sloe
Visit MarketHive to learn more: http://markethive.com/jeffreysloe