November Crypto Market Turbulance Shakes Holders To Their Core
By Reynaldo Marquez– November 23, 2021 in Cryptocurrency news Reading Time: 2 min read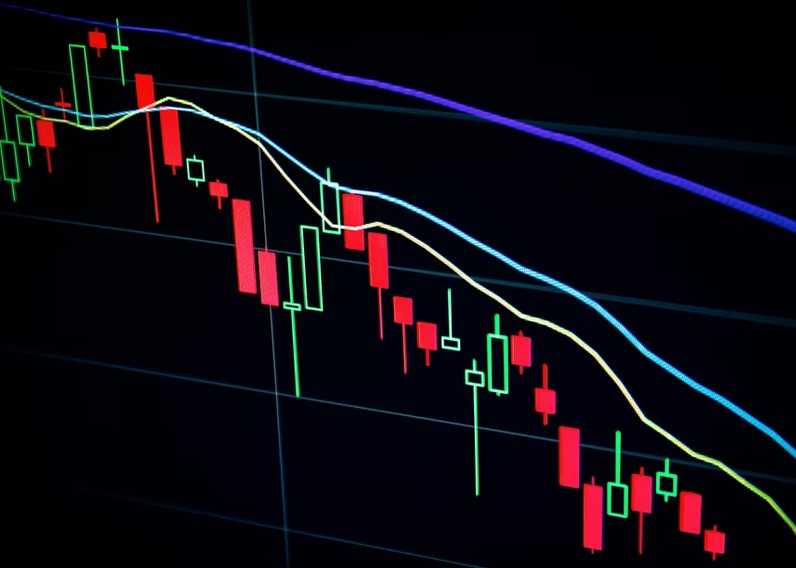 With an average 6% loss and a 10% correction in the weekly chart for Bitcoin, Cardano (ADA), XRP, and others, the crypto market has been trading in choppy waters for the past days. The uncertainty has brought a change in the sentiment, as traders prepare for further downside.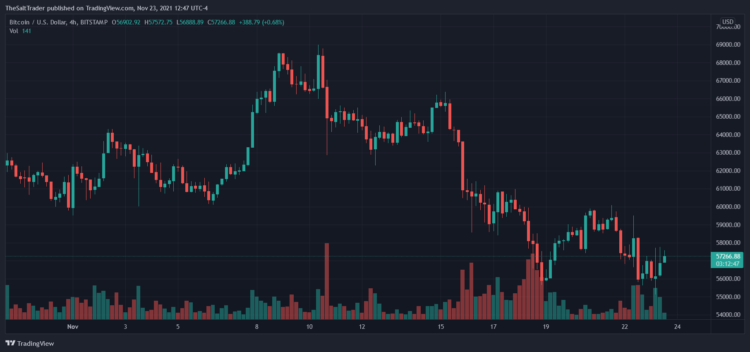 BTC trends downwards in the 4-hour chart. Source: BTCUSD Tradingview
Data from Arcane Research records a flipped in the Fear and Greed Index, the indicator has quickly moved from "Greed" to "Fear" as Bitcoin and other major cryptocurrencies in the top 10 by market cap retested critical support levels.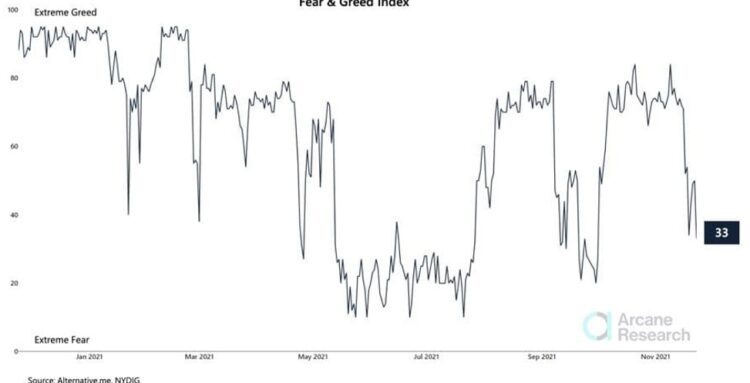 Fear and Greed Index. Source: Arcane Research
Bitcoin had a particularly bad week in terms of performance as an increase in volatility caused the price to fluctuate in a range between $55,4000 and $60,000. On the other hand, Ethereum has showed more strength as it has been able to quickly bounce back from its low and into the mid area around its current levels.
Related Reading | TA: Bitcoin Holds Key Support, Why BTC Remains At Risk of Sharp Decline
As Arcane Research noted, the crypto market's sentiment is still far from suggesting a cycle top. Despite the downside pressure, fundamental remains for future appreciation as most cryptocurrencies successfully retested their monthly lows. Arcane Research noted the following:
(…) in bull markets, the Fear and Greed Index indicate "greed" or "extreme greed" for more extended periods with short periodical visits to the "fear" area, just like we saw this spring. Therefore, a "fear" level is not necessarily a signal that the current bull market is over (…).
Why The Crypto Market Could Need More Blood Before New ATHs
The short term paints a very different picture for Bitcoin and the rest of major crypto. The U.S. Dollar Index (DXY) has been showing strength as the market trends downwards.
However, as analyst Justin Bennett pointed out, the U.S. currency could have found a local top. This could provide some breathing for crypto and allowed them to return to their previous high or take another shot at critical resistance price points.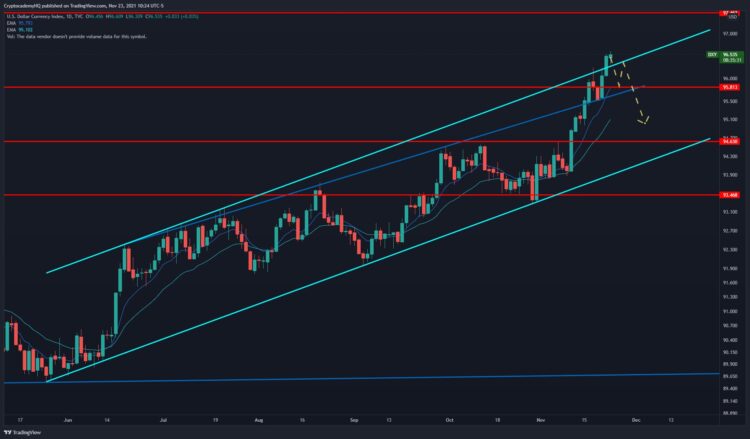 DXY Index in the daily chart. Source: Justin Bennett via Twitter
Despite the above, traders still need to maintain caution. Although there has been a reset across the crypto market, the derivatives sectors still show signs of being overheated with most exchanges recording neutral funding rates that quickly turn positive on breakouts to the upside.
Related Reading | This Bitcoin Metric Hints At Bottom, Is BTC Out The Woods?
Thus, why Jarvis Labs believes Bitcoin and the crypto market could re-entered price discovery once funding rates turn negative, as it did in September 2021. This could dip the Fear and Greed Index further down the fear levels into Extreme Fear.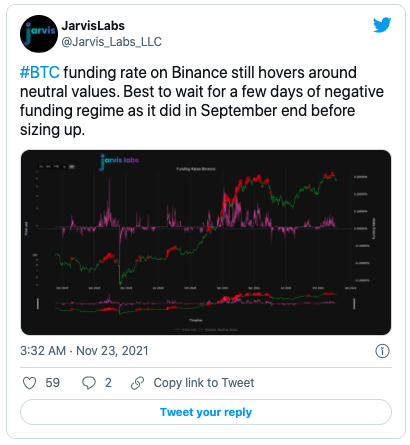 On that note, pseudonym trader Rekt Capital believes Bitcoin has showed little signs of strength. Another run into the lows could bring the whole market down with BTC's price. The analyst said:
Let's see how the Daily closes But investors are only fearful at the moment. A breakdown from here would certainly make them extremely fearful (…). Greed drives price up. Fear drives price down. Extreme Greed precedes tops. Extreme Fear precedes bottoms. Bitcoin probably needs to reach extremely fearful investor sentiment before it finally bottoms and reverses.

Advertisement
The original article was written by Reynaldo Marquez and posted on NewsBTC.com.
Article reposted on Markethive by Jeffrey Sloe
** Get secure funding for business projects in the USA and around the world. Learn more about USA & International Financing at Commercial Funding International. **