Dogecoin dumps following mention from Elon Musk on Saturday Night Live
While the crowd seemed to enjoy his performance, DOGE traders soured on Elon Musk's shout-out.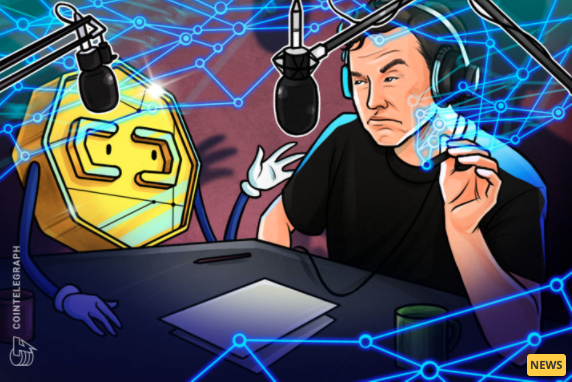 Image courtesy of CoinTelegraph

MAY 09, 2021
Meme cryptocurrency Dogecoin finally got its long-awaited shoutout on Saturday Night Live — but despite hodler hopes, the immediate result has been a violent dump.
First teased by entrepreneur and DOGE cheerleader Elon Musk in late April, the Tesla CEO finally mentioned the digital asset on live television tonight in his opening monologue of the sketch comedy show. The reference was a throwaway line from Musk's mother, who joined him onstage and asked if her Mother's Day gift would be Dogecoin; Musk replied that it would be.

An hour before the episode began, the price of DOGE sat at $.66, down from an all-time high of $.72. A pair of bearish headwinds may have shared responsibility for the pullback: Musk himself seemed to try and get ahead of the hype, urging followers in a Tweet to "invest with caution," and a host of new data indicates that many investors may be rolling their DOGE profits into other, largecap digital assets.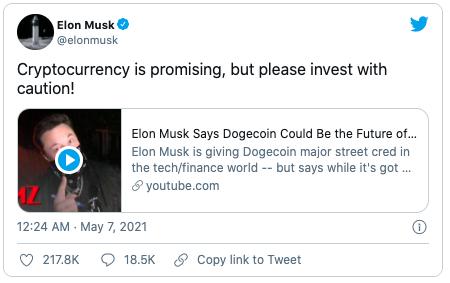 Additionally, Barry Silbert — the founder and CEO of Digital Currency Group, the parent company of crypto investment vehicle company Grayscale — announced a public short on DOGE via the FTX exchange. In a series of follow-up Tweets, he revealed that the position was $1 million in size, and that any proceeds or remaining funds after closing the short would be donated to charity.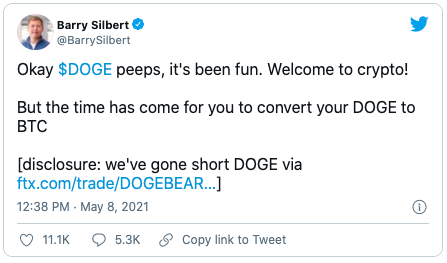 (It's unclear if Silbert was is using "we" in reference to Digital Currency Group, one of its portfolio companies, or is simply and bizarrely using a plural pronoun in reference to himself).
Many DOGE investors were nonetheless holding out hope for a high-profile shoutout on what looked to be a major pop culture event. NBC, the studio behind SNL, chose for the first time ever to live-stream the episode on Youtube, per the Wall Street Journal.
Even a mention could have significant impact on the price of DOGE as well: the meme currency has proven to be susceptible to price movements based on positive social media volume, and multiple studies have shown that Tweets from Musk often lead to price appreciation. A mention on an even bigger platform was thought to potentially lead to even greater gains.
Leading into the premier of the episode, Alameda Research trader Sam Trabucco (who said in a previous Tweet that he was "studying the typical SNL episode structure to try and understand when a DOGE mention would be the most natural") speculated that if a joke or mention didn't come in Musk's opening monologue, it would be "all over."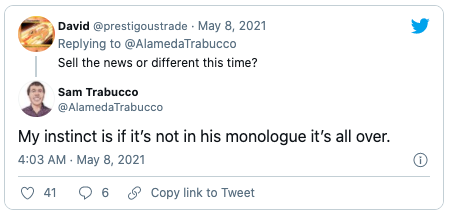 Despite arriving during the monologue, traders nonetheless responded negatively. It remains to be seen if a DOGE-centric skit later in the show can perhaps turn the speculative asset's fortunes around.

Advertisement
Original article posted on the CoinTelegraph.com site, by Andrew Thurman.
Article re-posted on Markethive by Jeffrey Sloe