Dogecoin Is Having Its Own Festival
Dogecoin Is Having Its Own Festival. And Dionne Warwick Is Headlining
The soul superstar is the latest celeb turned meme coin fan.
By Mathew Di Salvo 2 min read • Aug 13, 2021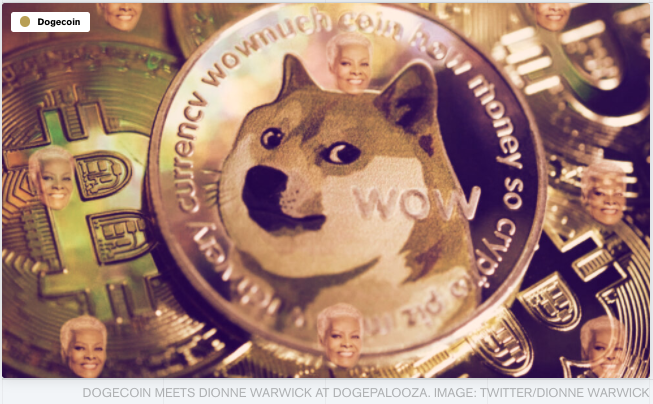 In brief
A Dogecoin festival will kick-off in Texas on October 9.
It will celebrate all things DOGE.
Soul legend Dionne Warwick will headline the festival.
Forget Elon Musk—Dogecoin's latest patron is none other than soul legend Dionne Warwick: the "Walk on By" singer is set to headline Dogepalooza, a festival that will celebrate all things DOGE.
Dogepalooza, which will take place in "multiple cities and countries around the globe," will kick-off on October 9 in Sugar Land, Texas, according to its website.
As well as spreading mainstream adoption of the coin, the festival, which will include live music, educational venues for learning about Dogecoin, and food and drink, will "help change the world by embracing and living the Doge motto of: 'Do Only Good Everyday'," organizers said.
Dogecoin—or DOGE—is a cryptocurrency that was created in 2013 as a joke. But it's become a lot more serious in the past year as Elon Musk, CEO of electronic car company Tesla and one of the world's richest men, has pumped its price on Twitter with often silly comments.
The coin, based on a Shiba Inu dog meme, is now the seventh biggest cryptocurrency, with a market cap of nearly $36 billion. That's bigger than a lot of companies on the S&P 500.
Dogecoin has gained a cult-following by those who want to get rich quick or those who want a break from the sometimes too serious world of crypto. Today, the meme coin ("fun" cryptocurrencies based on Internet memes, current events, online communities and influencers) was trading at $0.27—up 36.7% in the past week.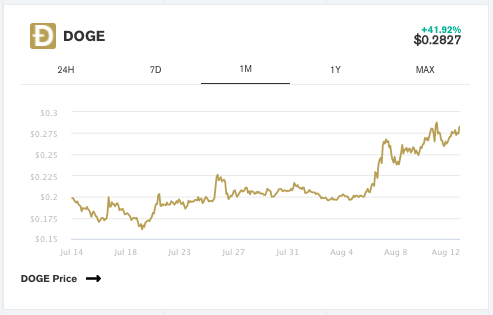 And it looks like Warwick, who became a superstar with hits like "I Say a Little Prayer" and "Heartbreaker," is a fan of the crypto. She's tweeted about DOGE before and described the upcoming festival as "meaningful."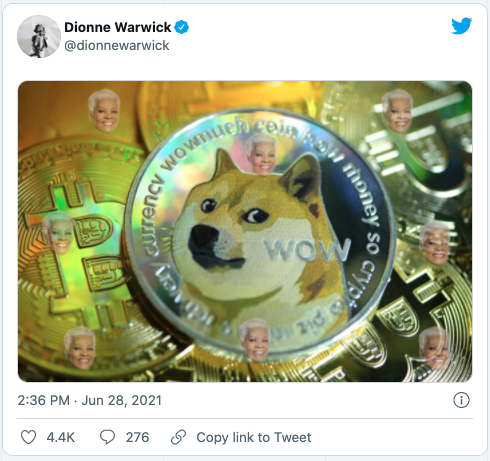 Dogepalooza plans to "spread the adoption, mainstream use and acceptance of Dogecoin with businesses, organizations, and charities of all sizes," according to the website. Other headliners are yet to be announced.
Tickets are priced at $125 general admission, $300 VIP, and $50 for children (aged 4-12). Shiba Inu dogs will be let in free, presumably.
Disclaimer
The views and opinions expressed by the author are for informational purposes only and do not constitute financial, investment, or other advice.

Advertisement
Original article posted on the Decrypt.co site, by Mathew Di Salvo.
Article re-posted on Markethive by Jeffrey Sloe