Gemini Adds Dogecoin Rival Shiba Inu Following Massive SHIB Surge
Shiba Inu hype might have cooled after the October pump, but the top Dogecoin rival has just joined another leading exchange.
By Andrew Hayward 2 min read • Nov 15, 2021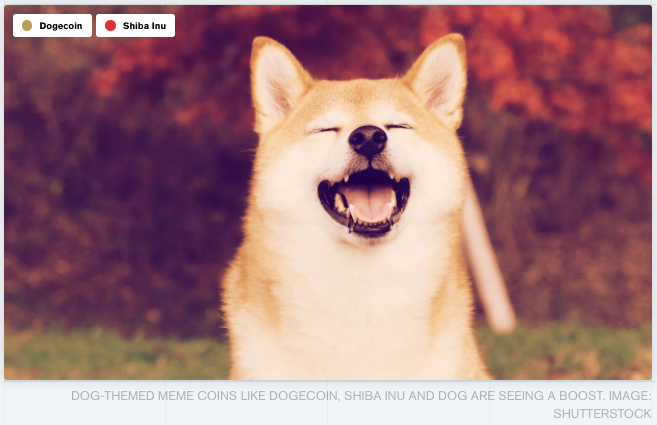 In brief
Meme token Shiba Inu (SHIB) is now available via crypto exchange Gemini.
SHIB saw a massive rise in price in October, briefly dethroning Dogecoin (DOGE) is the largest meme crypto by market cap.
Dogecoin (DOGE) challenger Shiba Inu (SHIB) may be down from the peak of its meteoric recent rise in value, but the 11th largest cryptocurrency by market cap is still spreading. And now you can buy and sell it on Gemini, the New York-based crypto exchange founded by Cameron and Tyler Winklevoss.

Today, the cryptocurrency exchange announced that it has enabled SHIB trading on its platform alongside a number of other coins and tokens. Other notable additions include the USDC stablecoin, the AUDIO token from streaming music platform Audius, and NFT art platform SuperRare's RARE token.

Shiba Inu saw a significant pop in value when Coinbase listed it back in mid-September, but so far the Ethereum-based token has only seen a modest increase in value today: it's up about 2% over the last 24 hours, per data from CoinGecko, at a current price of $0.00005400.

Dogecoin is the original dog-inspired meme cryptocurrency, and it enjoyed a dramatic rise in value earlier this year, jumping from about half a penny per coin to a high above $0.73 in May. However, at a current price around $0.26, DOGE is down about 65% from its peak price.

SHIB is a much newer challenger to the years-old DOGE, but it has put up a serious fight. Last month, SHIB's price accelerated quickly: at its peak, the coin was up 800% on the month, reaching a new all-time high of $0.00008616 on October 26.

On a couple occasions over the last month, Shiba Inu actually topped Dogecoin in terms of total market cap on CoinGecko's overall ranking.

However, SHIB is currently down 37% from that late October peak, and its market cap of $29.7 billion now sits just below DOGE at $34.2 billion. Even now, though, SHIB's price is up 113% over the last 30 days.

Many meme coins pumped in October, as DOGE saw less upward price action than newer rivals like SAMO and ELON, along with FLOKI and of course SHIB.

Meme coins are famously volatile, though, and some of those gains have been short-lived—but like Dogecoin before them, they pumped hard and fast thanks in part to surging, social media-led momentum.
DISCLAIMER
THE VIEWS AND OPINIONS EXPRESSED BY THE AUTHOR ARE FOR INFORMATIONAL PURPOSES ONLY AND DO NOT CONSTITUTE FINANCIAL, INVESTMENT, OR OTHER ADVICE.

Markethive Advertisement
Original article posted on the Decrypt.co site, by Andrew Hayward.
Article re-posted on Markethive by Jeffrey Sloe
** Get secure funding for business projects in the USA and around the world. Learn more about USA & International Financing at Commercial Funding International. **