Is Dogecoin Primed For Nasty Crash?
Dogecoin Primed For Nasty Crash To $0.05 And Not Even Elon Musk Can Save It: Strategist
By Brenda Ngari – June 19, 2021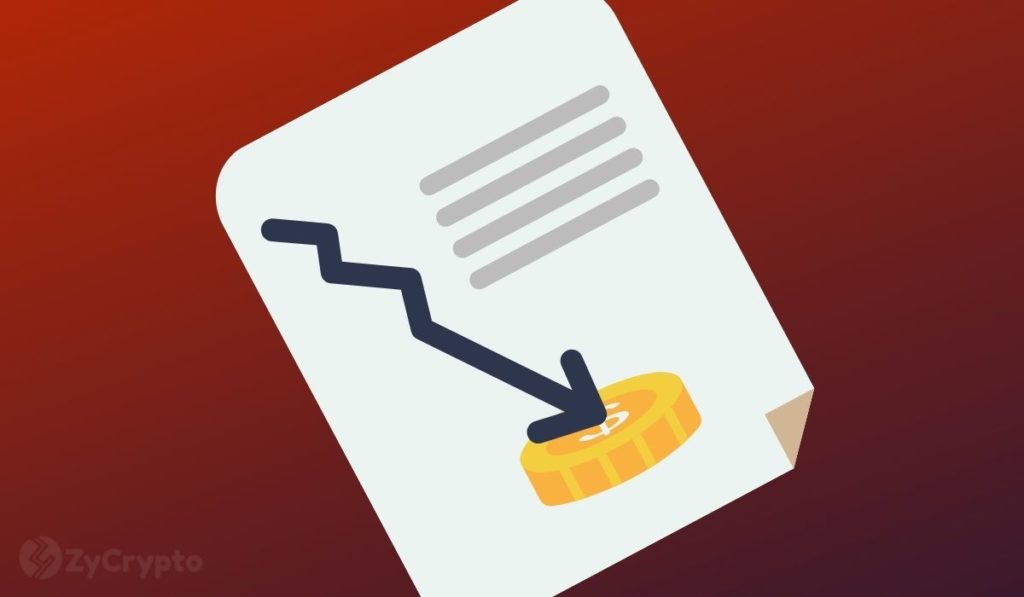 According to a prominent strategist analyzing the Dogecoin (DOGE) price, it appears that the meme cryptocurrency may be in line for a major crash. Though DOGE has plummeted over 60% from its May 8 all-time high, the crypto analyst sees a drawdown of an even larger magnitude — and not even Elon Musk's tweets can stop this from happening.
Not Even Elon Musk Can Rescue Dogecoin From Incoming Crash
In the last few weeks, Dogecoin bulls have been working hard to put together a monumental rally. Unfortunately, every attempt to bounce back has been met by a selling wall.
A look at Dogecoin's chart reveals a head-and-shoulders formation. This is a classical bearish setup that signals the likelihood of a move lower. To put it simply, this formation is painted when a coin forms three peaks on the same support level, with the middle peak being higher than the other two.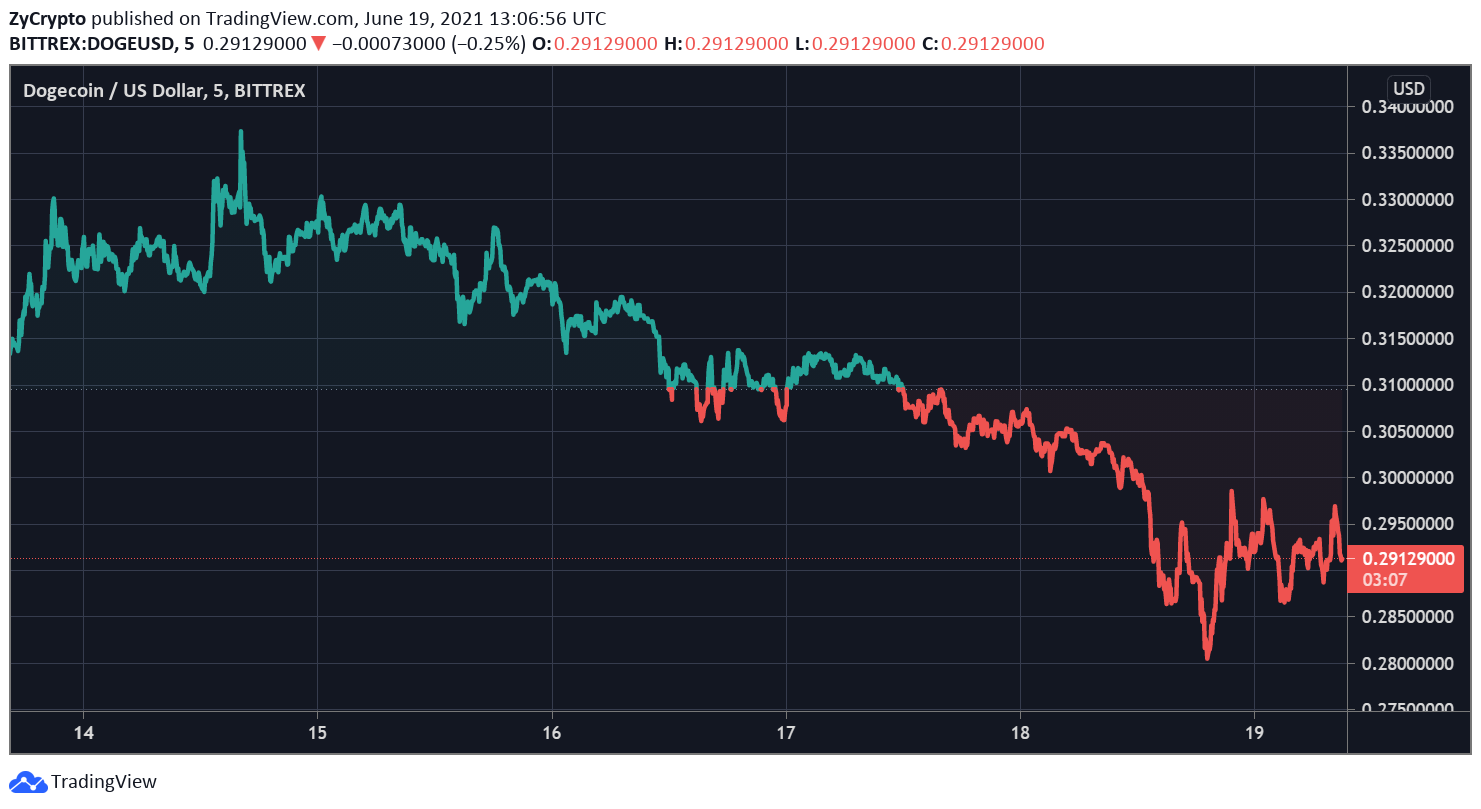 DOGEUSD Chart By TradingView (Click image for larger view)
Based on the chart attached, analyst Tyler Durden sees Dogecoin suffering an over 66% correction in the next couple of months. Durden describes the head-and-shoulders setup as "programmed", emphasizing its tendency to cause a substantial drop in the price of DOGE once the $0.299 support level is breached.
For the astute strategist, this pattern's next leg down brings the DOGE price to $0.05. He notes that Elon Musk's supportive tweets will not be able to reverse the bearish trend.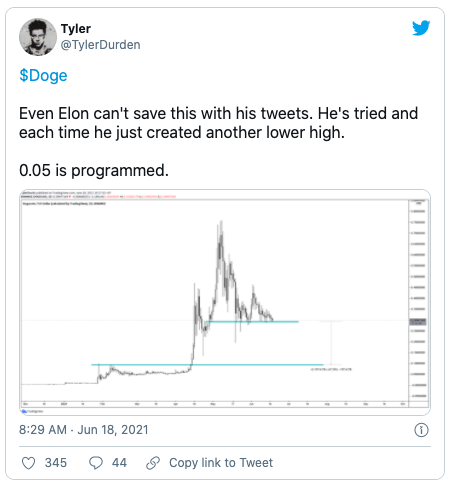 Dogecoin, the Shiba Inu-themed cryptocurrency created as a satirical homage to bitcoin, saw a parabolic rally in the first few months of 2021, surging as much as 15,300% at one point — thanks in large part to an endorsement from Tesla/CEO Elon Musk. The self-appointed Dogefather has even declared Dogecoin the "people's crypto".
The Dogecoin craze lost steam after Musk described the cryptocurrency as a "hustle" during his Saturday Night Live hosting. The centibillionare's comments triggered a 30% drawdown in the price of DOGE in the span of hours. The cryptocurrency continued on a downward trend. As of June 18, Dogecoin is trading 62% lower than its $0.76 ATH.
Is Dogecoin Likely To Tank To Zero In 2021?
Earlier this month, a pseudonymous analyst going by the name The Asian Investor unleashed a brutal assessment of Dogecoin, which he called a "pump-and-dump" opportunity. In his viciously worded article on Seeking Alpha, the analyst said the cryptocurrency will undergo a slow death as its careens to zero.
The Asian Investor explained:
"With new pump-and-dump "opportunities" popping up every other day, it is not very appealing to invest into an "asset" that has already risen this much.
Expect Dogecoin to fall towards $0 this year and die a slow death."


Markethive Advertisement
DISCLAIMER
The views expressed in the article are wholly those of the author and do not represent those of, nor should they be attributed to, ZyCrypto. This article is not meant to give financial advice. Please carry out your own research before investing in any of the various cryptocurrencies available.
The original article written by Brenda Ngari and posted on ZyCrypto.com.
Article reposted on Markethive by Jeffrey Sloe