Litecoin's LTC Daily Active Addresses Hint of a Bullish Divergence
Litecoin's (LTC) Daily Active Addresses Hint of a Bullish Divergence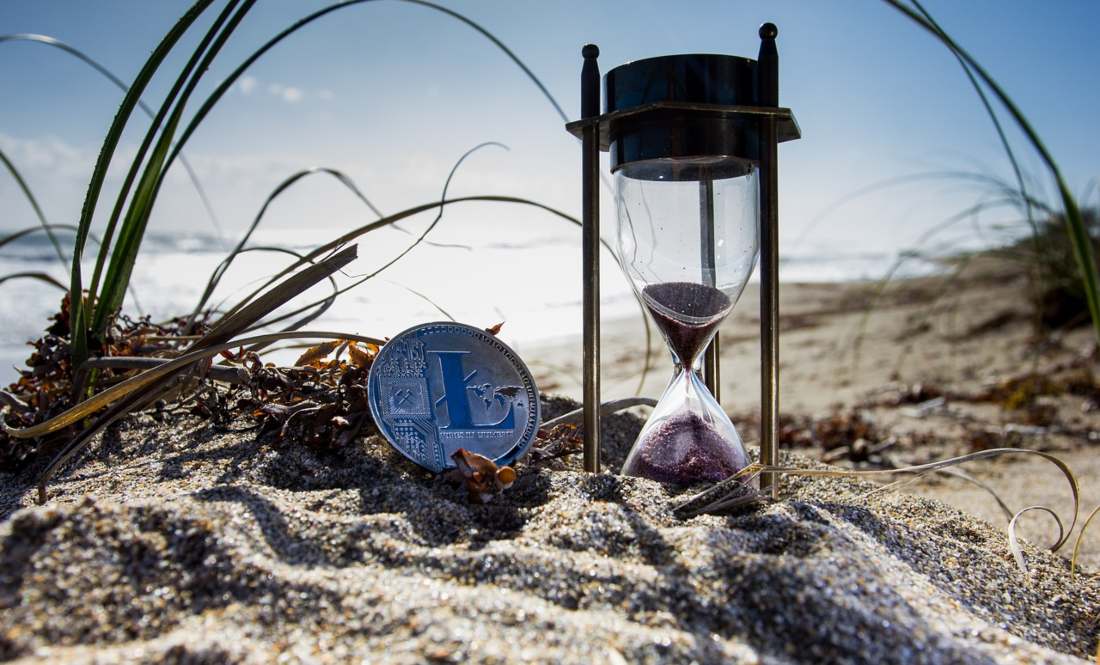 John P. Njui • LITECOIN (LTC) NEWS • September 8, 2020
Quick take:
Litecoin is exhibiting a bullish divergence between daily active addresses and price
LTC is showing a 3 month high in terms of address activity vs its current price
Litecoin's MimbleWimble protocol is due for launch on its testnet this month
LTC could be gearing up for a push up due to the impact of Confidential transactions on the crypto-verse
The crypto markets are in a state of relative calm after what looked like a never-ending week of losses. The month of September kicked off with Litecoin comfortable trading above $60 before a downward spiral that saw LTC test the $45 support zone on several occasions.
Litecoin's Daily Active Addresses Hint of A Bullish Divergence
Despite the market turmoil, activity on the Litecoin network has continued to be considerably high. According to the team at Santiment, Litecoin is showing a 3 month high in address activity divergence when compared to its current price level at around $48. The team at Santiment shared this observation via the following tweet.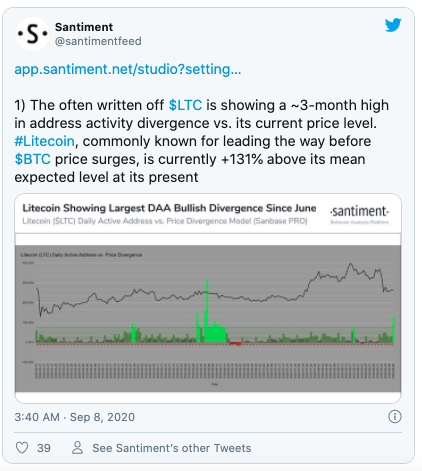 Litecoin's Fundamentals Remain Strong
Litecoin's high network activity was also captured by David Schwartz who is Litecoin Foundation's Project Director. In a recent tweet, Mr. Schwartz explained that Litecoin's fundamentals are currently very strong using the following stats.
Has the price drop affected #LTC's fundamentals?

Nope.

280 Thash/S

83k active wallets

40k trx

$50.58 median trx value

$7.8 mln sent per hour

All in the past 24 hrs

Its a currency, folks. People use it to pay for things.
MimbleWimble to Soon Launch on Litecoin's Testnet
Additionally, David Burkett provided his monthly MimbleWimble update in which he stated that everything was on track for a testnet launch this month.
Everything is on track for a testnet release at the end of this month. I'm still figuring out a few final details, but I'll share more information later this month about what the testnet will look like, and how everyone can get involved.
Conclusion
Summing it up, Litecoin's network activity is currently exhibiting a bullish divergence with its price. Such a divergence could be foreshadowing a move up by LTC in the crypto markets. With the MimbleWimble protocol about to be launched on testnet, Litecoin could be gearing up for a brief rally due to the positive impact of confidential transactions on the LTC network.
As with all analyses of Litecoin, traders and investors are advised to use adequate stop losses and low leverage when trading LTC on the various derivatives platforms.


Markethive Advertisement
Original article posted on the EthereumWorldNews.com site, by John P. Njui.
Article re-posted on Markethive by Jeffrey Sloe
Visit MarketHive to learn more: http://markethive.com/jeffreysloe