Merry Christmas? Youtube Continues Cruel Crypto Crackdown
Merry Christmas? Youtube Continues Cruel Crypto Crackdown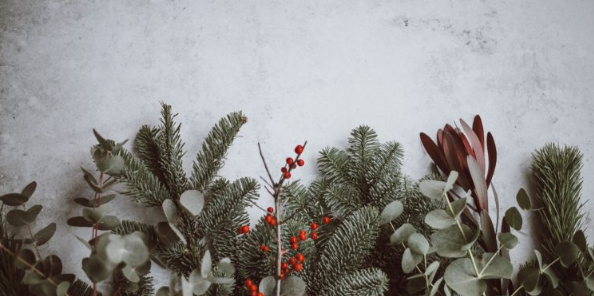 If you've been on Crypto Twitter at all over the past 48 hours, you've likely heard the plight of many Youtubers covering the Bitcoin and cryptocurrency spaces. Countless influencers and content creators in the industry — of which many have tens of thousands of followers and subscribers apiece — have reported that a number of their videos covering developments in the cryptocurrency space have been taken down, with Youtube citing the existence of "harmful and dangerous" content.
Over the past few hours, more information about the context of Youtube's sudden crackdown has been revealed. Apparently, a majority of the crypto-centric videos that have been taken down by Youtube were promoting "certain regulated goods and services" — a list that includes items like alcohol, explosives, human organs, nicotine, firearms, and much more.
This is notable as "cryptocurrency" is not mentioned on the list, though "counterfeit documents or currency" and "online gambling casinos" are. The latest strikes could imply that Google does not recognize digital assets as real money and that it sees exchanges and other Bitcoin services, many of which are promoted by the affected Youtubers, as "online gambling casinos" or sites that offer "regulated goods."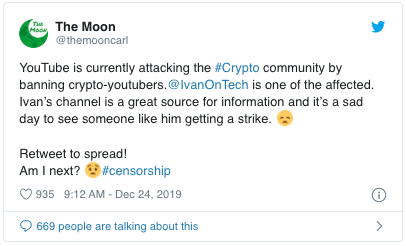 What's crazy about all this is that it comes on Christmas, when these content creators, some of which make a fair portion of their income off Youtube and other social platforms, should be out celebrating the holidays with their family and friends but are instead languishing about a potentially lost source of income on their go-to video platform.
Just look to this tweet from The Crypto Lark below, in which he wrote:
Nice Christmas present from Youtube, 37 videos pulled and a strike. Ouch.

All things considered, it should come as no surprise that the cryptocurrency community is outraged. Entirely outraged.
Mati Greenspan, the founder of QuantumEconomics, remarked that to protest "Google's new, unexpected, and unexplained censorship of crypto content, I will be boycotting Youtube until further notice." Others seem to be following Greenspan's lead.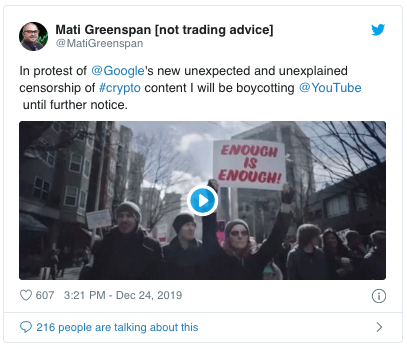 Ran NeuNer, a cryptocurrency and blockchain investor and host of CNBC's "Crypto Trader" show, echoed the outrage, writing:
YouTube deleting all Crypto content is a MASSIVE blow to the industry. YouTube is the go to place for educational video and the first port of call for new people entering the eco system to learn the basics. As a community we should challenge this formally.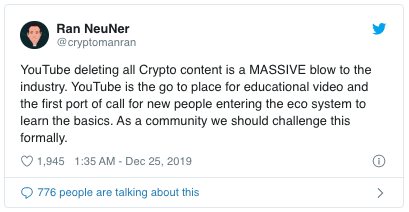 Youtube hasn't commented on this recent debacle, nor can this writer find any content updates or guidelines that mention cryptocurrency or related technologies by name.
Original article posted on the EthereumWorldNews.com site, by Nick Chong.
Article re-posted on Markethive by Jeffrey Sloe
Visit MarketHive to learn more: http://markethive.com/jeffreysloe