Tesla's Bitcoin Holdings Have Earned the Company $1 Billion in Profit
The company's latest earnings reports reveals the success of Tesla's Bitcoin bet.
By Tim Hakki 2 min read • Oct 21, 2021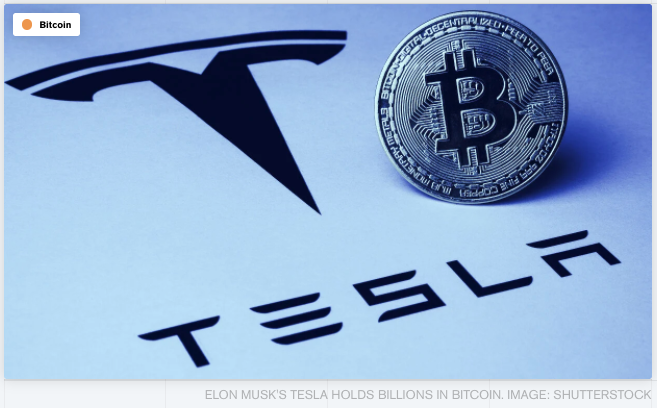 Tesla has published its Q3 earnings, reporting a $51 million impairment charge on its Bitcoin holdings last quarter.
Over the last year, Tesla's CEO Elon Musk has been a vocal acolyte of crypto on Twitter. He regularly pumps Dogecoin, and on February 8 this year, Tesla announced it had invested exactly $1.5 billion in Bitcoin.
In the lingo of accounting, an "impairment charge" is a figure given to describe a reduction in the recoverable value of a fixed asset. Reductions can happen if the asset is damaged (in the case of precious physical assets), or in the case of volatile digital assets like crypto, if the price drops.
Tesla can no longer claim to be "impaired" by its Bitcoin holdings though.
How much Bitcoin does Tesla hold?
According to a Q1 filing with the SEC, Tesla declared that on March 31, the value of its Bitcoin holdings amounted to $2.48 billion.
At that time, the price of Bitcoin was just shy of $59,000, indicating that Tesla holds around 42,000 Bitcoin.
The filing disclosed that the "carrying value" (the original price it paid) for Tesla's Bitcoin holdings by the end of Q1 was $1.33 billion, indicating a sell of $170 million worth of Bitcoin, going by carrying value.
This was done "to prove liquidity of Bitcoin as an alternative to holding cash on balance sheet," according to a tweet by Elon Musk.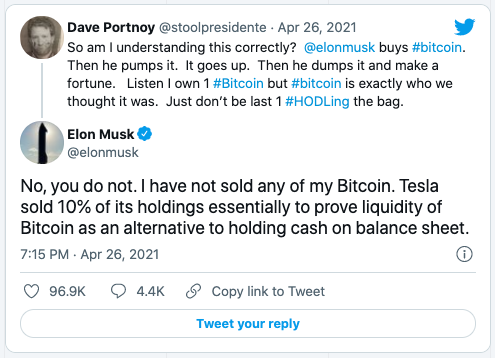 But this is crypto, and values can oscillate wildly from one month to the next.
In the SEC filing, Tesla revealed it received a $101 million "positive impact," or profit, from its sale of 10% of its holdings by the end of March, meaning that the monetary value of the Bitcoin sold at the time was over $270 million.
So, if the "holding value" of Tesla's Bitcoin after the sale is $1.33 billion and it has around 42,000 Bitcoin left, the price it originally paid for them averaged around $31,620.
Amid this week's new highs, one Bitcoin is worth around $63,500 today, meaning that Tesla holds over $2.67 billion in Bitcoin, an increase of more than a billion dollars since Q1.
DISCLAIMER
THE VIEWS AND OPINIONS EXPRESSED BY THE AUTHOR ARE FOR INFORMATIONAL PURPOSES ONLY AND DO NOT CONSTITUTE FINANCIAL, INVESTMENT, OR OTHER ADVICE.

Markethive Advertisement
Original article posted on the Decrypt.co site, by Tim Hakki.
Article re-posted on Markethive by Jeffrey Sloe