Analyst: Bitcoin to Target 9500 Due to A Few Key Factors
Analyst: Bitcoin to Target $9,500 Due to A Few Key Factors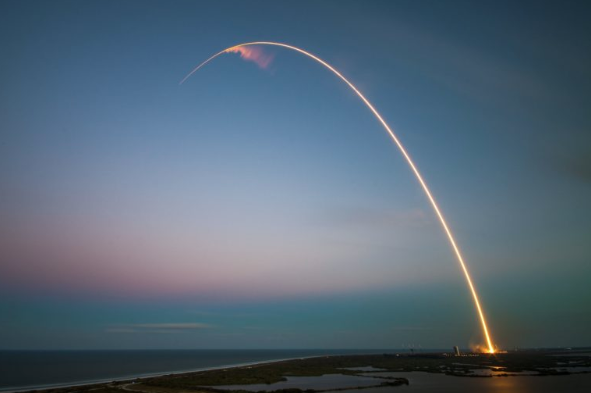 Bitcoin has been hovering within the $8,100 region for the past couple of days, with each attempt to break above and below this region quickly resulting in sharp rejections that lead BTC back into this consolidatory range.
Analysts are noting, however, that they anticipate this bout of sideways trading to result in a major bull favoring movement, which could lead it to surge up towards the coveted five figure price region in the coming several days and weeks.
Here Are the Factors Analysts Are Watching That Could Spark the Next Massive Bitcoin Rally
Currently, Bitcoin is trading sideways at its current price of $8,150, struggling to garner any momentum in one direction or another.
It is important to note that bulls did attempt to spark a rally yesterday, which ultimately resulted in a strong and swift rejection at $8,300 that sent the cryptocurrency reeling down to below $8,000.
It does appear that this level has become strong support, as the brief dip to lows of $7,950 was quickly reversed by buyers, who were able to push it back up to its current price levels.
In the near-term, UB – a popular cryptocurrency analyst on Twitter – believes that Bitcoin will soon incur a massive amount of momentum that allows it to surge past all its key resistance levels, which could lead it as high as $9,500 before it finds enough resistance to halt the rally.
"$BTC – I believe it's more than likely we see continuation to the upside over the next few weeks with a target of ~$9.5k. *A Weekly Close below $7,460 would completely invalidate this argument* Dips are for buying," he explained, pointing to the chart seen below.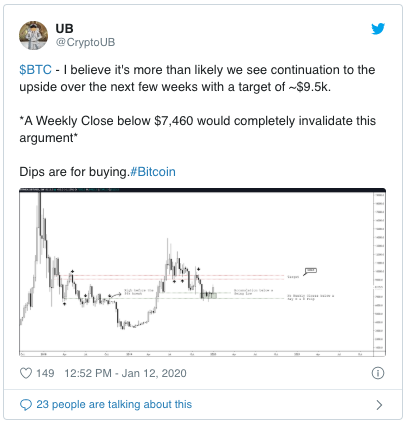 As for what technical factors could help catalyze and sustain this rally, it appears that the crypto recently broke above a key multi-year resistance level.
FlibFlib, another prominent crypto analyst, discussed Bitcoin's break above this level in a tweet, telling his followers that it makes him feel overall bullish on the cryptocurrency in the near-to-mid-term.
"In my humble opinion, Bitcoin has already broken out on the CME and on Spot exchanges with confirmation on the OBV & now just waiting on a higher high on Macro TFs. Maybe some chop sideways and a bit of a backtest but everything is there to make me overall bullish," he explained.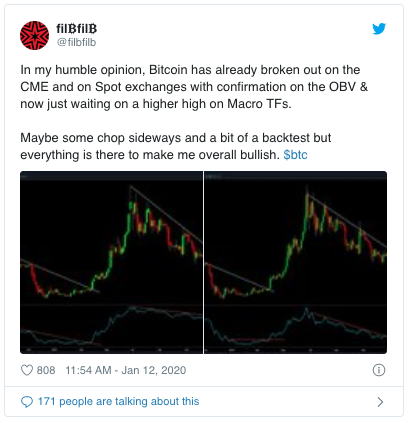 If this trendline break is sustained by bulls, it could mean that the crypto's recent lows will mark a long-term bottom.
Original article posted on the EthereumWorldNews.com site, by Cole Petersen.
Article re-posted on Markethive by Jeffrey Sloe
Visit MarketHive to learn more: http://markethive.com/jeffreysloe