Bank of England Admits Crypto is the Future US Dollar to Fall
Bank of England Admits Crypto is the Future, U.S. Dollar to Fall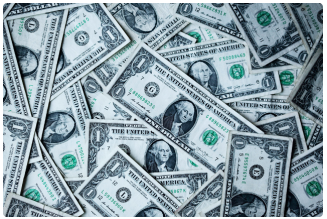 Crypto is here to stay and the greenback is on its way out. That was the sentiment portrayed by the Bank of England's Governor, Mark Carney, at the central bank meeting in Jackson Hole, Wyoming on Friday. Crazy, right?
Crypto a Topic at Central Bank Meeting
Over the past few days, the leaders of the world's economy, the chiefs of and advisors to central banks the world over, have descended in a little town in (the pro-blockchain state) Wyoming, Jackson Hole. Financial media is also in attendance. There, these world monetary leaders are convening to talk about monetary policy and macroeconomic trends. This comes at an important time, as a growing number of Wall Street analysts and retail investors have begun to call for a recession, just as trade wars have raged and central banks have embarked on money printing sprees.
One interesting comment came from Mark Carney of the Bank of England, According to a report from Bloomberg, the leading central banker said that a Libra-like crypto asset has the capacity to replace the U.S. dollar as the world's reserve currency. In other words, he's saying that a digital asset backed by a diverse range of government assets, including bonds and fiat monies, has the potential to usurp the world's go-to currency.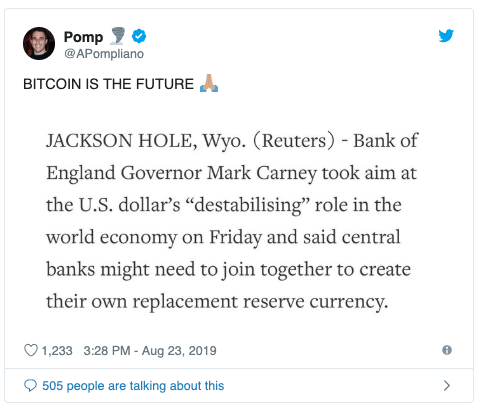 While he wasn't exactly specific with his comment, Carney made it clear that the current system isn't working in his eyes, saying that "in the longer term, we need to change the game".
Of course, he didn't explicitly say that a decentralized crypto asset is the future. But, the sentiment that a digital currency has the ability to literally overtake the world's economy shouldn't be taken lightly, even if it was made in reference to something as seemingly centralized as Libra.
t is important to note that if a consortium of central banks do go ahead with a Libra-like project, it is unlikely to be as corporate or decentralized/uncontrollable as Facebook's David Marcus claims Libra will be.
Not His Only Interesting Comment
That wasn't his only interesting comment. According to the same Bloomberg report, the U.K. monetary leader also stated that he believes the world is currently seeing "heightened economic policy uncertainty, outright protectionism and concerns that further negative shocks." If you believe that Bitcoin is a proper store of value or safe haven/hedge, this comment should be seen as bullish for the "orange coin".
Original article posted on the EthereumWorldNews.com site, by Nick Chong.
Article re-posted on Markethive by Jeffrey Sloe
Visit MarketHive to learn more: http://markethive.com/jeffreysloe