Bitcoin to Continue to 20000 After Retracement to 9000s: Analyst
Bitcoin to Continue to $20,000 After Retracement to $9,000s: Analyst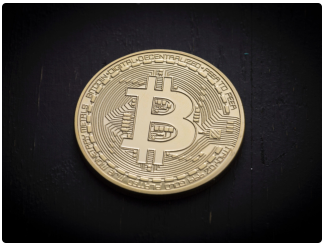 Bitcoin Has Bottomed, Ready to Bound Higher
Once again, Bitcoin (BTC) has stagnated, finding a foothold around $10,000 for the umpteenth time in a matter of weeks. While this is a positive development, especially considering the bearish momentum seen last week, there remains some expecting for the cryptocurrency market to continue lower.
But, Murad Mahmudov of prominent crypto fund Adaptive Capital, which is run by the analyst, Willy Woo, David Puell, and Misir Mahmudov, has recently proposed that bears, not bulls, are finally losing grip of the crypto market.
In the below tweet, which Mahmudov posted on Friday, it was argued that $9,080, which Bitcoin hit a number of weeks back in a massive 35% retracement from $14,000, is the short-term bottom for this phase of the cycle.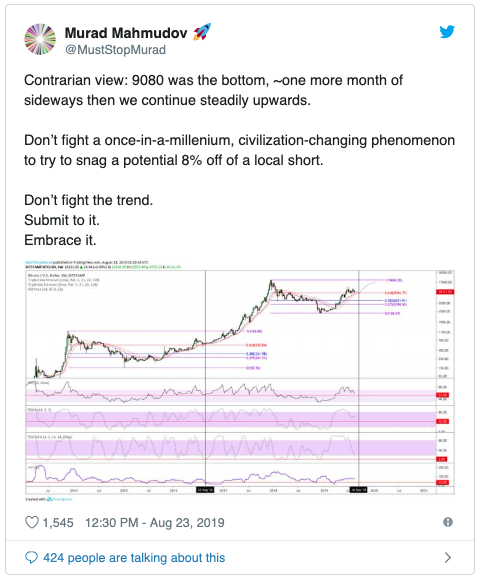 In a tweet which he headlined "Contrarian view", the former Goldman Sachs analyst explained that from how he sees it, Bitcoin is most likely to test $9,750 — the 0.618 Fibonacci Retracement of this whole cycle — in the following month in a bout of sideways price action, then "continue steadily upwards" to flirt with the $20,000 all-time high around the end of 2020.
He backed his prediction by looking to August 2016, when BTC was in a similar situation then as it is now: BTC had just rallied out of a bear market, but bears wanted one last hurrah. Then, Bitcoin tested its 0.618 Fibonacci Retracement prior to skyrocketing higher.
Also back in 2016, trend indicators, like historical volatility and the Relative Strength Index (RSI), hit certain levels that they are trending to at this moment.
And, to put a cherry on the cryptocurrency cake, the analyst recently noted that the Fishnet indicator (similar to the Guppy) is tightening as BTC has entered a wedge. This pattern was last seen in 2012 and in 2015/2016, back when Bitcoin was breaking out of bear markets. History repeating will see the cryptocurrency break out in the coming two months prior to commencing a grind higher.
Mahmudov's analysis lines up with the thoughts of John Bollinger, which Ethereum World News reported on yesterday. As detailed by this outlet on Friday, the creator of the Bollinger Bands technical indicator stated that he is under the belief that Bitcoin and its ilk are "working on trying to forge a short-term tradable bottom".


Markethive Advertisement
Bollinger stated that while the bottoming "process is [not] completed yet," he is currently eyeing a range of "someplace between $10,000 and $9,000" for BTC to find a low.
Original article posted on the EthereumWorldNews.com site, by Nick Chong.
Article re-posted on Markethive by Jeffrey Sloe
Visit MarketHive to learn more: http://markethive.com/jeffreysloe