Bitcoin Cash BCH Does Everything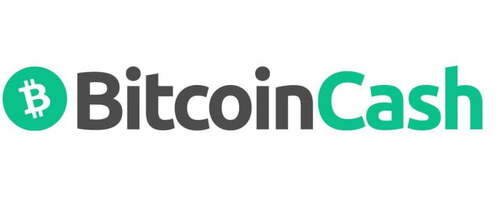 Bitcoin Cash (BCH) Does Everything Elon is Looking for – Kim Dotcom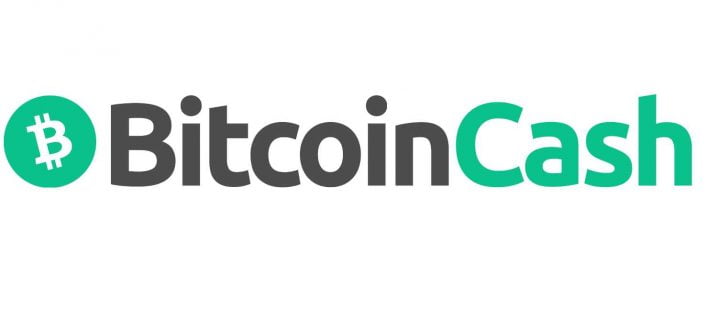 JOHN P. NJUI • ALTCOIN NEWS • BITCOIN (BTC) NEWS • MAY 17, 2021
Kim Dotcom believes that Bitcoin Cash (BCH) is the solution to Elon Musk's quest for a more eco-friendly cryptocurrency with faster block times
Kim Dotcom has been a long-term proponent for Bitcoin Cash citing that it is best placed to accelerate crypto adoption
Internet entrepreneur and founder of the once-popular MegaUpload files hosting service, Kim Dotcom, has chimed in on the crypto Twitter discussions surrounding Elon Musk's decision to halt Tesla from accepting Bitcoin for car payments.
According to Kim Dotcom, Bitcoin Cash (BCH) is best placed to offer the solutions Elon Musk is looking for in finding an eco-friendly digital asset with faster block times. Kim Dotcom reached out to the CEO of Tesla through the following statement.
I respect how @elonmusk doesn't take shit from Bitcoin maximalists with their outdated and misleading talking points. Elon's passion for Dogecoin is cool but Bitcoin Cash does everything he's looking for today with a viable green strategy and a quickly expanding vendor network.
When Elon Talks About Bitcoin, People Listen
In an earlier statement on Twitter, Kim Dotcom pointed out that Elon Musk – through his status as a successful entrepreneur – has opened the conversation about Bitcoin not being the ideal digital asset as many believe it is. Kim Dotcom also stated that Elon Musk's concerns about block times, seem like Deja Vu and the reason Bitcoin Cash was forked from Bitcoin in the first place. His tweets on these two topics can be found below.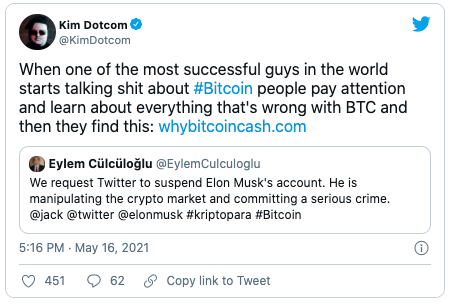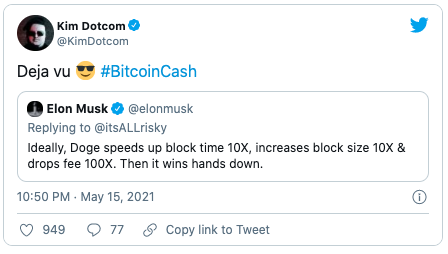 Bitcoin Cash Drops to $988 After Investors Speculate Tesla Sold its Bitcoin
With respect to price, Bitcoin Cash (BCH) has not been immune to the crypto market volatility as a result of Bitcoin dipping due to Elon Musk hinting via Twitter, that Tesla sold its BTC. However, the CEO of the electric vehicle company has confirmed that the company has done no such thing.
The speculation as to whether Tesla sold its Bitcoin, has resulted in Bitcoin Cash posting a local low of $988 after the $1k support failed to hold earlier today. At the time of writing, Bitcoin Cash is trading at $1,115 as crypto investors take a wait-and-see approach till the markets cool down after the recent dip by Bitcoin to $42k.

Markethive Advertisement
Original article posted on the EthereumWorldNews.com site, by John P. Njui.
Article re-posted on Markethive by Jeffrey Sloe
Visit MarketHive to learn more: http://markethive.com/jeffreysloe