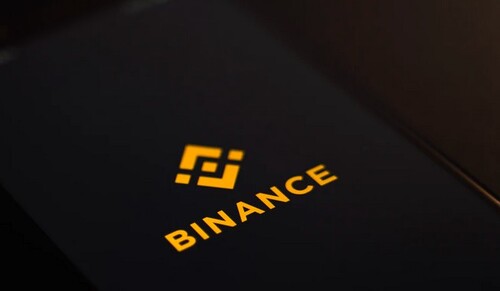 Up 700% in Q1, BNB's next rally could be one for the "history books"
By Reynaldo Marquez – April 9, 2021 in Binance Coin, Cryptocurrency News Reading Time: 2min read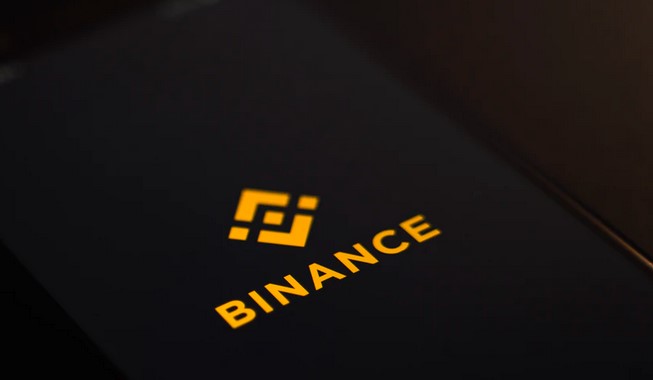 Crypto research firm Messari released this Q1 Performance Recap, the undisputed winner on the top assets was Binance Coin (BNB) with an astonishing 709% in profits. Followed by ADA (557%) and UNI, BNB seems ready to continue its rally.
Conducted by researcher Roberto Talamas, he concludes Binance Coin's rally was fuel by the emergence of the Binance Smart Chain (BSC). Taking market share from Ethereum, BSC became a cheaper and faster option for some users.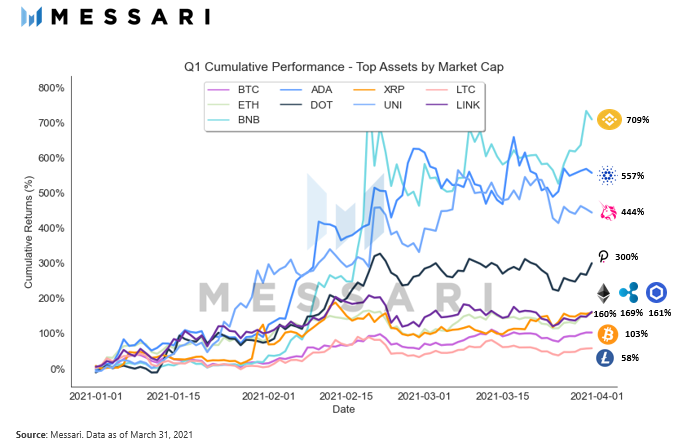 Source: Messari
In parallel, the token leveraged Binance high trading volume "and earnings fueled by white-hot crypto markets", according to Talamas. One of BSC's most popular protocols PancakeSwap also was of the top winners these past months. The researcher claimed:
Binance Smart Chain has quickly become the most used smart contract platform next to Ethereum and has benefitted from Ethereum's rising transaction fees, and accelerated volumes and earnings fueled by white-hot crypto markets. These developments created the perfect environment for BNB to reach new all-time highs.
PancakeSwap's native token CAKE made 3,031% gains, ranking it in the top position of the best performing DeFi assets.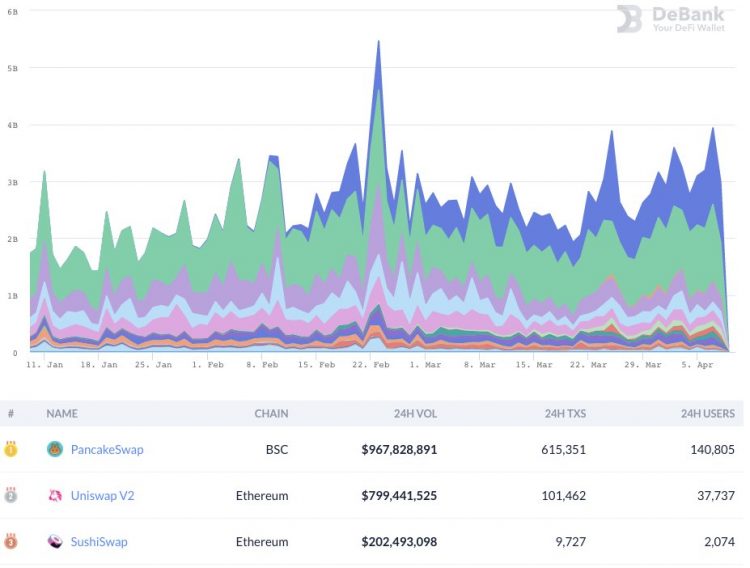 Source: DeBank
BNB from the traders perspective
At the time of writing, Binance Coin is trading at $442 with 6.3% profits in the 24-hour chart. In the 7-day chart, the token has 32.8% profits and 50.2% in the past month.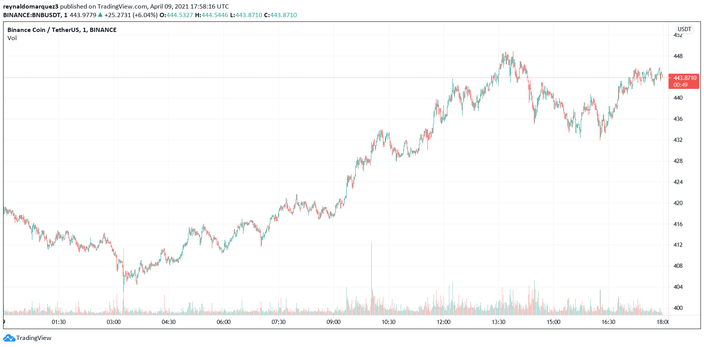 BNB with moderate gains in the 24-hour chart. Source: BNBUSDT Tradingview
Although BNB dropped from its ATH at $448, trader "Kaleo" was expecting a vertical breakout due to a pattern spotted in its price. The token has a period of a massive rally, shakeout, and a new push to ATH.
In the short term, BNB could experience a period of accumulation as it prepares for the next rally, Kaleo said:
All in on $BNB and $FTT (…) One more flight. One more leg up for BNB and FTT.
Trader "Bitcoin Printer" is bullish on Binance Coin and has set support at the current levels. Losing them could mark a "pause in the party". Otherwise, BNB could go north of $510 with more upside in the coming months. The trader said:
IF RSI breaks out and invalidates the bear div.. holy moly.. It seems to happen.. this is insane.. but also 161,8% extension.
In the medium term, Binance Coin's profits will be determined by its capacity to maintain competitiveness with Ethereum's optimism rollout with Uniswap v3 deployment. Set for early May, the new features and cheaper transactions could reverse BSC and PancakeSwap's edge.
Now, PancakeSwap has the top position in daily trading volume with $967 million followed by Uniswap v2 with $799. Analyst Checkmate said the following on BNB's future:
Straight up, the single biggest upset this bull could deliver would be a BNB flip of ETH. Even if it was just for a day, it would be one for the CT history books.

Advertisement
The original article was written by Reynaldo Marquez and posted on NewsBTC.com.
Article reposted on Markethive by Jeffrey Sloe
Visit MarketHive to learn more: http://markethive.com/jeffreysloe