BTC Could Hit 98 Million Yes 98M USD in 10-20 Years Analyst Says
BTC Could Hit $98 Million (Yes… 98M USD) in 10-20 Years, Analyst Says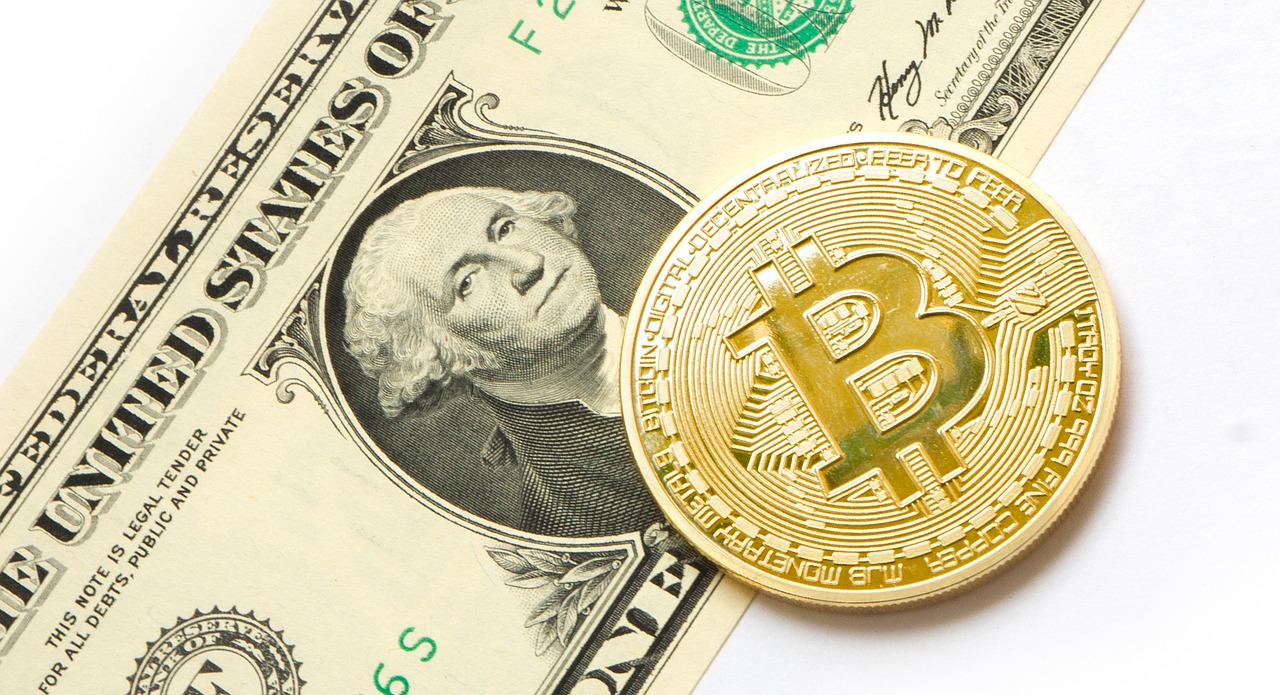 The crypto market has remained bullish on the last weeks, prompting a recent wave of optimism and euphoria among traders, analysts and enthusiasts in general. The 5k zone has supported the BTC, allowing the token to remain stable, reversing some indicators.
Having successfully held above 5k, analysts believe that the strength of the bearish market is losing influence and, with the halving on the horizon, many think that the cryptomarket is starting the next bull run.
Unlike the sentiment of 2017, most analysts today speak of conservative numbers. High forecasts such as Tim Draper's or John McAfee's are seen as exaggerated or unbelievable. Recently, however, an analyst did not hold back his mood by publishing a hyper-bullish prediction for the next few decades.
In a thread of 27 tweets, Twitter account Moon Capital explained that in approximately 10 to 20 years, BTC would become the first currency to reach a value of about 98 million dollars per unit.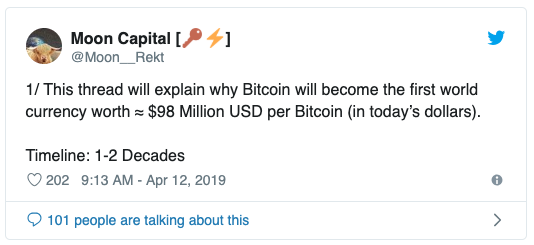 BTC Could Substitute Fiat.. And Gold
The unusual prediction explains that to achieve this figure, the BTC had to maintain its traditional cyclical behavior but with the technological and financial developments typical of this industry.
This combination of circumstances could trigger the perfect scenario for BTC to become the world's currency, replacing the global money supply. If this happens, the capitalization already increases by about 90.4 trillion dollars.
Also, investors could stop buying gold in the face of the possibility of using the BTC as a safer means. If the Bitcoin market takes 90% of the total capitalization of gold, it would account for about 6.9 trillion dollars.
This streak would give the BTC the necessary level of influence to allocate the capitalization of other financial markets such as bonds, stocks, equities, real estate and even public investments close to 5% of GDP.
Under this hyperoptimistic scenario, the BTC would gain around 294 trillion dollars in capitalization, becoming the "new global unit of account." This price would total about 98 million dollars for each available token.
So far, it is still very early, and it is indeed impossible to predict the future, especially when it is such an optimistic scenario. Most banks are developing financial solutions based on blockchain technologies, precisely to compete against BTC, not to adopt this token.
To read the full analysis without having to sort through each tweet, here is a post containing all the Tweets. This is possible thanks to Thread Reader App
Original article written by Jose Antonio Lanz and posted on the EthereumWorldNews.com site.
Article posted on Markethive by Jeffrey Sloe
Visit MarketHive to learn more: http://markethive.com/jeffreysloe