Cardano Whales On Buying Spree
Cardano Whales On Buying Spree With Record ADA Holdings As Price Closes In On Bullish Sprint
By Newton Gitonga – April 13, 2022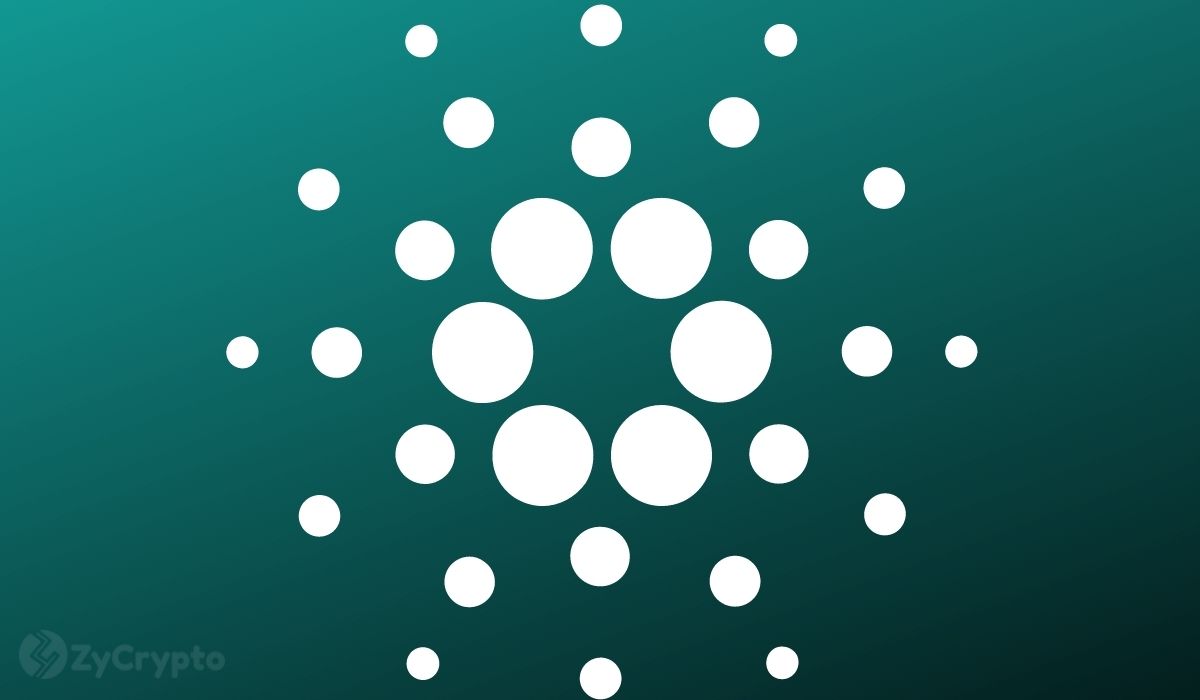 Cardano's biggest whales seem to have bounced back after an eight-month-long drawdown that saw investors offset some of their ADA holdings for profit to scoop up more coins.
According to blockchain analytics firm Santiment, despite ADA being down close to 60% from September highs, ADA whales are back to owning the largest supply of coins. ADA whales are entities that hold 10 million coins or more in their wallets.
"Cardano is down -59% since its $3.10 all-time high. However, the asset's top whales (holding 10M+ ADA) have returned to their largest percentage of supply held in two years, at 46.6%. Note that a large portion of these addresses is owned by exchanges." Santiment wrote on Tuesday.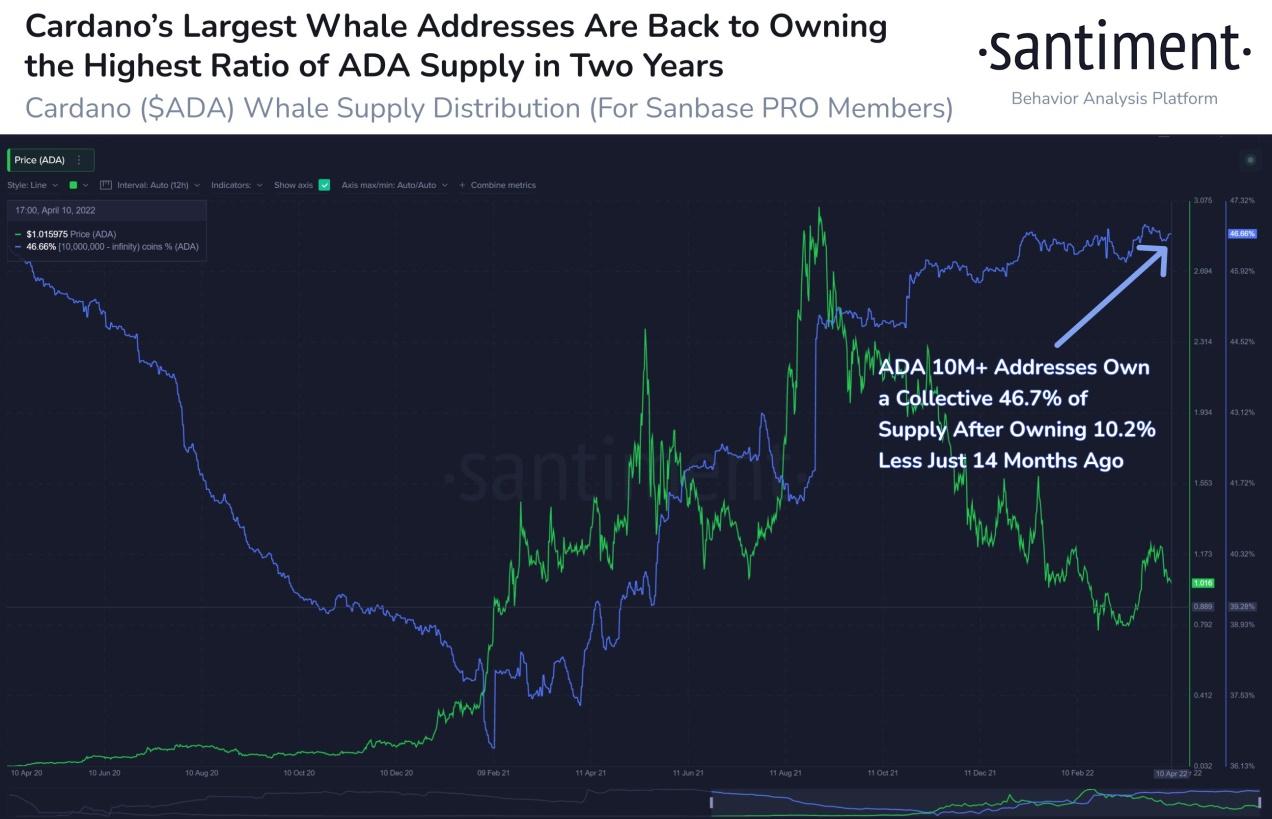 (Click image for larger view)
A recent report by the firm has also shown that the group of addresses holding between 10,000 to 100,000 ADA has been accumulating rapidly, as they continuously bought dips since the price started dropping in late September and now hold 16.8% of the available supply./p>
Santiment also sheds light on Bitcoin's whale behavior, noting that the cryptocurrency saw a steady supply of 4,000 whale transactions exceeding $1M+ Monday through Friday, with mild slowdowns on weekends. It however notes that large increases are needed if the price is to foreshadow March highs./p>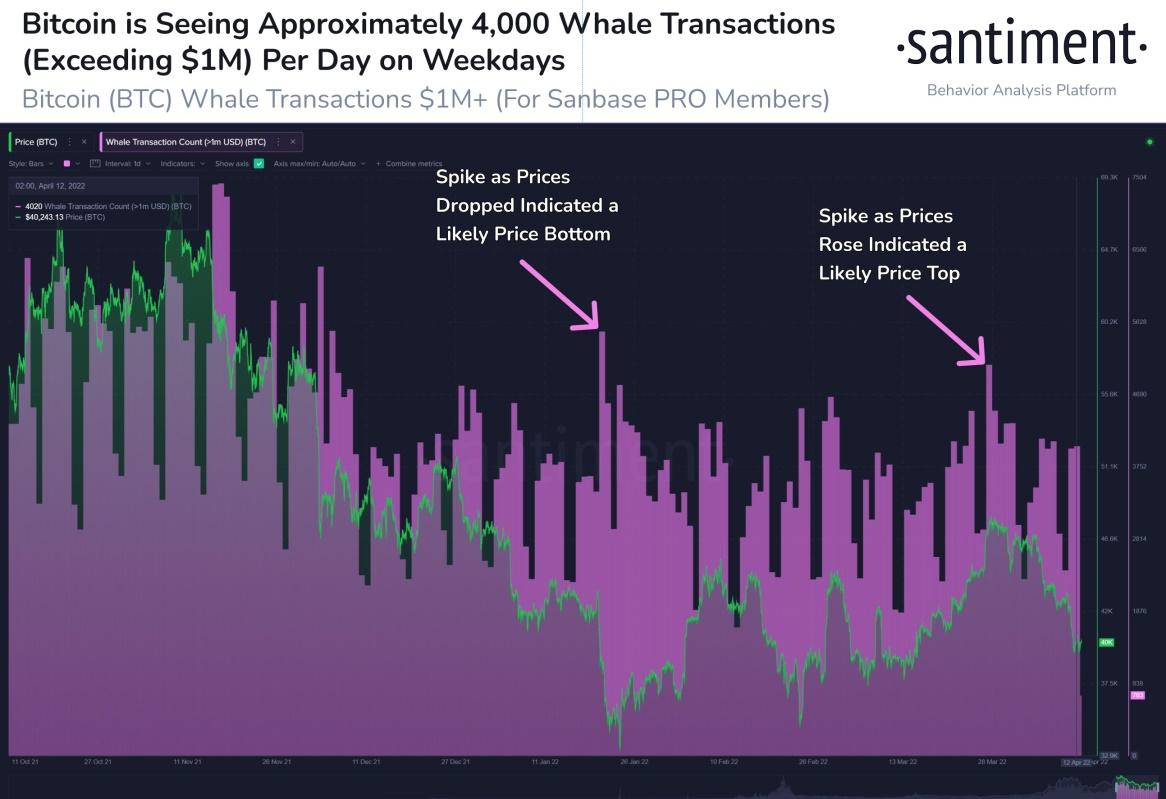 (Click image for larger view)
Looking at Ethereum and other altcoins, Santiment noted that the ongoing FUD could create "buy the dip" opportunities. The firm also mapped out elevated growth in exchange outflows for ETH, noting that "this climb continues pointing to a greater proportion being kept away from exchange sell-off risk."/p>
That said, ADA continues its struggle to reclaim the $1 price level after slumping along with other major cryptocurrencies as a result of negative macroeconomic events. Two weeks ago, ADA managed to rise above $1 after bouncing off the $0.78 support and breaking a crucial resistance downtrend line before tapping $1.25. That strength, however, seems to have been sapped in the past ten days, with the price falling below the dollar threshold./p>
Santiment has stated that apart from positive fundamentals, for ADA's price to rise, an uptick in the number of transactions equal to $100,000+ would be crucial. This may perhaps inject the much-needed liquidity to push ADA back to fresh highs. At press time, ADA ($32B Capitalization) is trading at $0.96, up 5,460.20% from its all-time low./p>
DISCLAIMER: None Of The Information You Read On ZyCrypto Should Be Regarded As Investment Advice. Cryptocurrencies Are Highly Volatile, Conduct Your Own Research Before Making Any Investment Decisions.
The original article written by Newton Gitonga and posted on ZyCrypto.com.
Article reposted on Markethive by Jeffrey Sloe
** Loans, secure funding for business projects in the USA and around the world. Learn more about USA & International Financing at Commercial Funding International. **