DOGE Becomes a Top 3 Crypto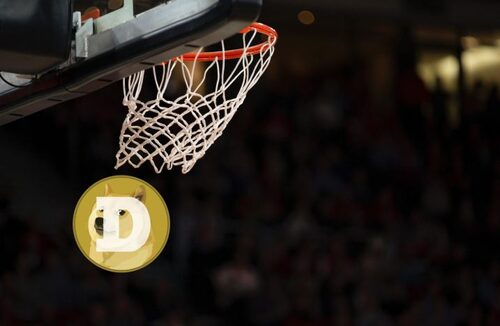 Dogecoin (DOGE) Becomes a Top 3 Crypto at $0.77, Flippening BNB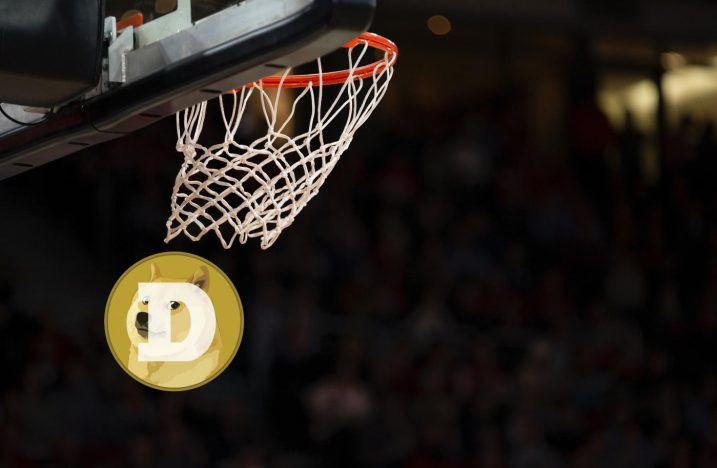 JOHN P. NJUI • ALTCOIN NEWS • BINANCE (BNB) NEWS • MAY 6, 2021
Dogecoin is now ranked 4th on Coinmarketcap
DOGE has edged out heavyweights such as XRP, Tether (USDT), ADA and Polkadot
Dogecoin (DOGE) could become a top 3 digital asset at a value of $0.77
This is based on the assumption that BNB's market cap stays at $100 Billion
Dogecoin is once again be set for a pullback but Elon Musk's SNL appearance might offer additional bullish momentum
The popular meme-coin of Dogecoin (DOGE) is now ranked 4th in terms of market capitalization. At the time of writing, Dogecoin is trading at $0.615 with a market capitalization of $77.92 Billion as seen through the following screenshot courtesy of Coinmarketcap.com.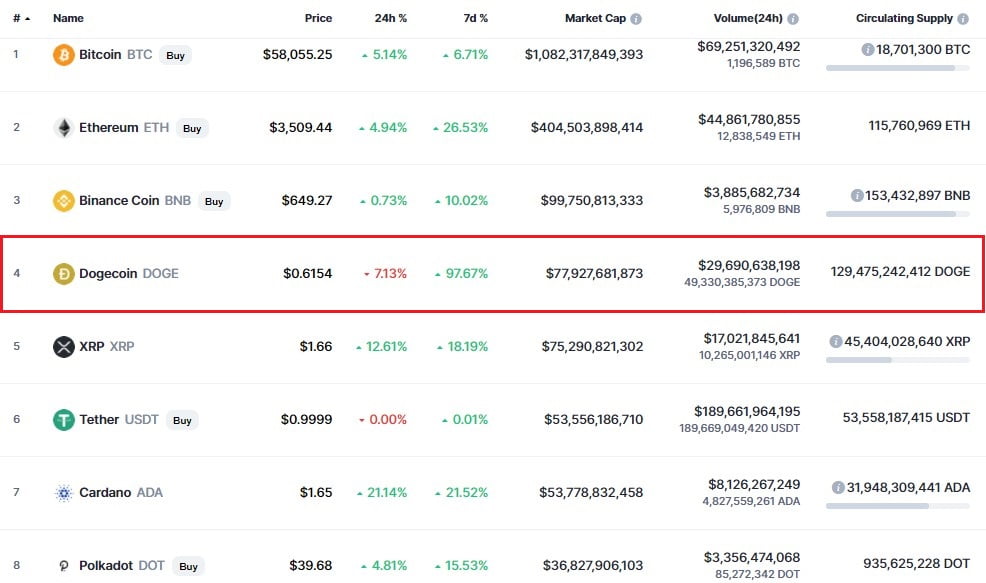 From the Coinmarketcap rankings, it can be observed that Dogecoin has leaped past crypto heavyweights such as XRP, Tether (USDT), Cardano (ADA) and Polkadot (DOT), on its way to the number 4 spot.
Furthermore, and assuming Binance Coin maintains its market cap at $100 Billion, Dogecoin will become the third most valuable digital asset at a value of $0.77.
The possibility of DOGE flippening Binance Coin (BNB) was explored by CZ who pointed out that such a feat would only be possible through the decentralization aspect of the crypto-verse. His exact statement was as follows.
In crypto, an abandoned meme coin over takes many hard working projects, and currently barking at the top 3 spot. haha…

There are many things in crypto that I don't understand. Such is the power of decentralization. I like BTC, ETH, BNB, DOGE and more.
John Bollinger Warns of Another Dogecoin Top
However, the inventor of Bollinger Bands, John Bollinger, has once again warned that Dogecoin (DOGE) might have hit a top with the recent all-time high of $0.69663 – Binance rate. Mr. Bollinger shared his analysis of DOGE through the following tweet.

Elon Musk to Host the Saturday Night Live Show on May 8th
To note is that the unofficial CEO of Dogecoin (DOGE), Elon Musk, is scheduled to host Saturday Night Live this Saturday, May 8th.
Therefore, speculation is high that Mr. Musk will probably mention DOGE during the show and introduce the digital asset to millions of viewers in the US and globally. Such a possibility has led many traders to believe that the $1 Dogecoin price target might be achieved on this date.
As a precaution, traders and investors are reminded that DOGE hardly follows technical analysis 100%. Its wild price swings are based on social media discussions and adoption as seen with the Dallas Mavericks. Therefore, trading DOGE on spot markets is highly recommended rather than using high leverage on futures.


Markethive Advertisement
Original article posted on the EthereumWorldNews.com site, by John P. Njui.
Article re-posted on Markethive by Jeffrey Sloe
Visit MarketHive to learn more: http://markethive.com/jeffreysloe