ELON MUSK'S MISUNDERSTANDINGS ABOUT BITCOIN
BREAKING DOWN ELON MUSK'S MISUNDERSTANDINGS ABOUT BITCOIN
In a recent tweet explaining why Tesla would no longer accept bitcoin, Elon Musk displayed a poor understanding of Bitcoin's energy use.

Image courtesy of Bitcoin Magazine
Hass McCook MAY 28, 2021
Bitcoiners yearn for the good old days of great debates with informed critics who were up for the intellectual challenge. It allowed the community to hone its thought processes, build knowledge and skills to widen the debate and discussion, and generally strengthen our resolve and commitment to our investment thesis.
Unfortunately, we have been completely out of training for about seven years, with not one single new criticism of Bitcoin surfacing that hasn't already been factually refuted to death. The old critics were a cold glass bottle of Classic Coke, now all we get is lukewarm, off-brand, generic cola.
Et tu, Elon? After all we've been through together?
In order to keep this article readable within a reasonable amount of time, I will rely on the reader to dig into the refutations of these arguments, prepared by industry experts based on hard data and computer science, and I will be extensively linking to their work throughout this piece.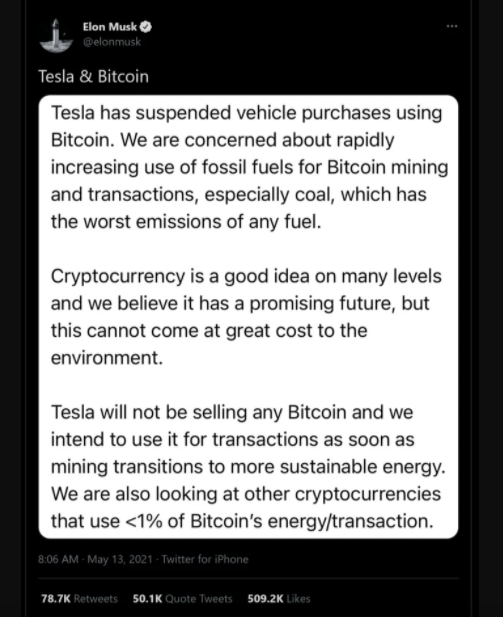 We will go through the three paragraphs in Musk's tweet one by one…
1. "Tesla has suspended vehicle purchases using Bitcoin. We are concerned about rapidly increasing use of fossil fuels for Bitcoin mining and transactions, especially coal, which has the worst emissions of any fuel."
I have two words for you Mr. Musk: "Prove it." Prove that the use of fossil fuels for Bitcoin mining is rising. Unfortunately for everyone, this is:
Impossible to do with 100% accuracy due to the decentralized nature of the industry and the impossibility of surveying every single mining operation in the world.
Not what the literature has been saying: A) The Cambridge Centre For Alternative Finance estimates that 76% of all miners use renewable energies as part of their mix, with between 29% and 39% of all energy used coming from renewables, based on industry data from the world's largest miners and mining pools B) CoinShares estimates that total share of renewables may even be as high as 73%.
Due to the length and amount of links of this article, please read the entire original article at BitcoinMagazine.com, which is written by Hass McCook: I think you will find it very interesting and informative.

Markethive Advertisement
This partial article is re-posted on Markethive by Jeffrey Sloe
Visit MarketHive to learn more: http://markethive.com/jeffreysloe