EMX Exchange Halts Trading of USOIL-Perp After Crude Oil Crash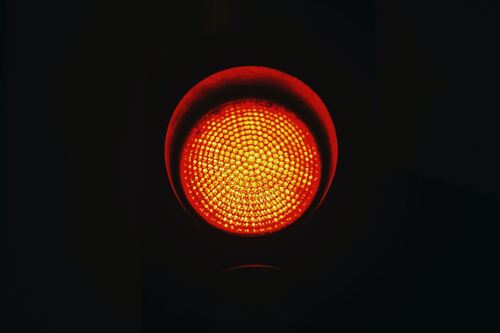 EMX Exchange Halts Trading of USOIL-Perp After Crude Oil Crash
The exchange had not been designed to handle negative values of global futures contracts.
John P. Njui • News Exchanges • April 21, 2020 • 2 Min read
In brief:
Everyone was shocked when US Oil prices hit zero and global futures contracts fell hard into negative territory.
Such an event had not been anticipated by the team at the EMX exchange.
The team halted trading of its USOIL-Perp contract.
Trading of the perpetual contract is yet to be reopened as the team decides on a way forward.
Yesterday's price movement of US Crude Oil shocked everyone. The majority of traders were confident that the price of the precious commodity would not break the various support zones that were last seen in the 1980s. However, the WTI Crude Oil chart went right through the decades' strong support zones at $15, $12 and $9. The price per barrel went to zero as futures contracts went into negative territory as low as $-40.
EMX Exchange Halts Trading of its USOIL-Perp
Such a scenario of negative prices of US Oil futures contracts had not been anticipated by the team at the EMX Exchange. As a result, the team decided to halt the trading of its USOIL-Perpetual contract. The screenshot below shows that trading was stopped at 18:00 (UTC) on the 20th of April. The last price of the USOIL-Perp contract was $3.48. This is after its value almost hit zero.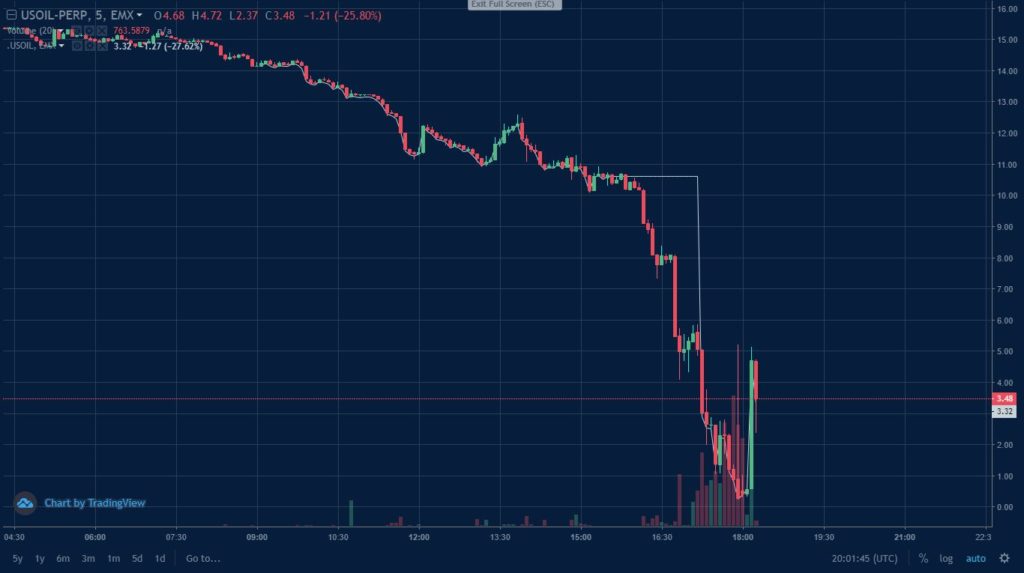 USOIL-Perp Chart courtesy of EMX.com (Click on Image for larger view)
Unexpected Sequence of Events
As earlier mentioned, very few traders and investors had anticipated that the price of US Crude Oil futures contracts would go into negative territory. The team at EMX has also explained that such a scenario had not been planned for. They have since issued the following statement via Twitter explaining the situation at hand.
We are currently investigating ways to move forward with USOIL-PERP due to negative underlying prices, an edge case that we had not built for.
Additionally, the team has halted withdrawals as they verify all transactions. They explained this in a follow up of the first announcement.
For those of people who concerned about withdrawal, we are manually verifying all transactions and everyone should get it back within 1-3 business days. We apologize for the inconvenience.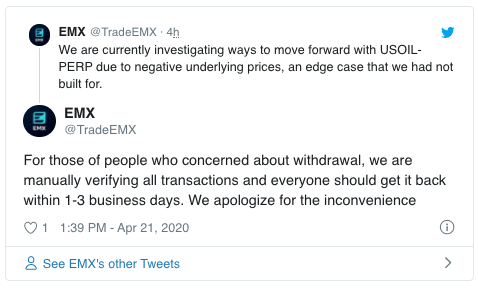 What's Next for USOIL-Perp Traders on EMX?
As the stoppage only affects the USOIL perpetual contract, trading of other contracts on EMX is still much active. However, traders who anticipated the Crude Oil meltdown and decided to go SHORT, might have to wait till the team at the exchange decides on a way forward.
More About EMX Exchange
Founded in 2017, the Evermarkets Exchange (EMX) has a vision of revolutionizing the global derivatives markets. The exchange does this by allowing users to trade contracts on equities, currencies, commodities as well as popular cryptocurrencies. The latter includes perpetual contracts on Bitcoin (BTC), Ethereum (ETH), EMX token, ChainLink (LINK) and Tezos (XTZ).
(Feature image courtesy of Erwan Hesry on Unsplash.com.)
Disclaimer: This article is not meant to give financial advice. Any additional opinion herein is purely the author's and does not represent the opinion of Ethereum World News or any of its other writers. Please carry out your own research before investing in any of the numerous cryptocurrencies available. Thank you.

Markethive Advertisement
Original article posted on the EthereumWorldNews.com site, by John P. Njui.
Article re-posted on Markethive by Jeffrey Sloe
Visit MarketHive to learn more: http://markethive.com/jeffreysloe