Tezos Enters Esports With Team Vitality Sponsorship, NFT Plans
After linking up with Ubisoft, the proof-of-stake blockchain network becomes the "main partner" of a major esports team.
By Andrew Hayward 3 min read • Jan 6, 2022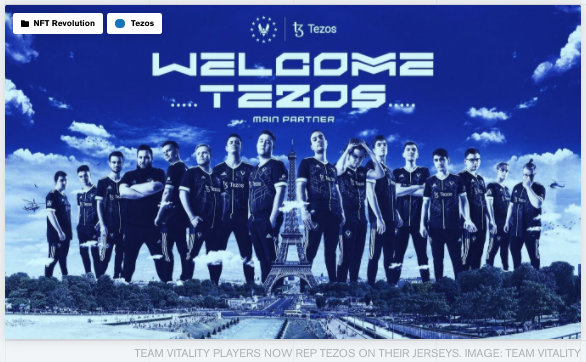 In brief
Tezos has announced a three-year sponsorship with esports club Team Vitality.
Vitality will launch NFTs, wear the Tezos logo on player jerseys, and more.
Just weeks after revealing an NFT deal with major video game publisher Ubisoft, proof-of-stake blockchain network Tezos is now taking steps into the esports industry. Today, the Tezos Foundation announced a sponsorship deal with Team Vitality, a leading European esports organization.
The three-year deal will run through 2024 and see Tezos become Vitality's "main partner" amid other team sponsorships, including with apparel brand Adidas and PC hardware maker Corsair. An image shared by both parties shows a variety of Vitality players wearing a new jersey with the Tezos logo on the chest.
Beyond the jersey sponsorship, Tezos will also develop technical blockchain-based applications for the esports team, including NFT collectibles, an NFT marketplace, and fan engagement opportunities. Vitality players will also work to educate esports fans about blockchain tech, as other teams have done via their respective crypto sponsorships.
Terms of the deal were not disclosed. In a release, Vitality described the alliance as its largest sponsorship deal to date and "one of the biggest European partnerships in esports."
Team Vitality competes in Riot Games' prominent League of Legends European Championship (LEC) franchised league, and fields teams in other competitive games such as Counter-Strike: Global Offensive, Rocket League, and Fortnite.
Vitality's deal with Tezos is the latest in a recent surge of partnerships between esports teams and leagues and crypto industry companies.
Cryptocurrency exchange FTX has arguably made the biggest headlines in the space so far, sponsoring popular club Team SoloMid (TSM) in a 10-year, $210 million naming rights deal in June 2021. In August, the exchange signed a seven-year deal (value not disclosed) with Riot Games to sponsor League of Legends esports competitions.
Meanwhile, crypto exchange Coinbase signed deals with Team Liquid, Evil Geniuses, and BIG in 2021, alongside a partnership with tournament operator ESL. Crypto.com sponsored the team Fnatic, and decentralized exchange Uniswap sponsored Team Secret through a marketing grant voted on by UNI token holders.
While crypto industry partnerships are flourishing in the esports industry, traditional video game publishers and developers have faced backlash for embracing NFTs. Ubisoft's recent tie-up with Tezos for in-game NFT items in Tom Clancy's Ghost Recon: Breakpoint was met with social media backlash, although the project still went ahead.
On the other hand, GSC Game World canceled plans to implement NFTs into the game S.T.A.L.K.E.R. 2 after fan pushback, and gaming chat app Discord canned crypto wallet integration following a similar response from users. Game publishers like Square Enix and Konami have also seen vocally negative feedback to announcements around NFT plans.
DISCLAIMER
THE VIEWS AND OPINIONS EXPRESSED BY THE AUTHOR ARE FOR INFORMATIONAL PURPOSES ONLY AND DO NOT CONSTITUTE FINANCIAL, INVESTMENT, OR OTHER ADVICE.

Markethive Advertisement
Original article posted on the Decrypt.co site, by Andrew Hayward.
Article re-posted on Markethive by Jeffrey Sloe
** Get secure funding for business projects in the USA and around the world. Learn more about USA & International Financing at Commercial Funding International. **