Wall Street Is Buying Vast Amounts Of Bitcoin Despite Goldman Sachs' Anti-Crypto Attitude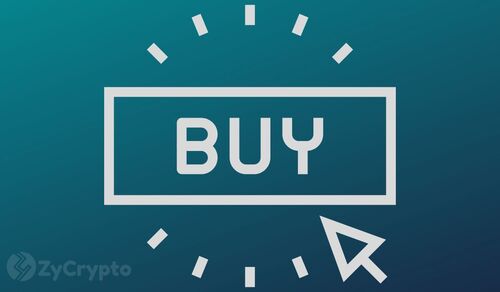 Wall Street Is Buying Vast Amounts Of Bitcoin Despite Goldman Sachs' Anti-Crypto Attitude
By Brenda Ngari – May 28, 2020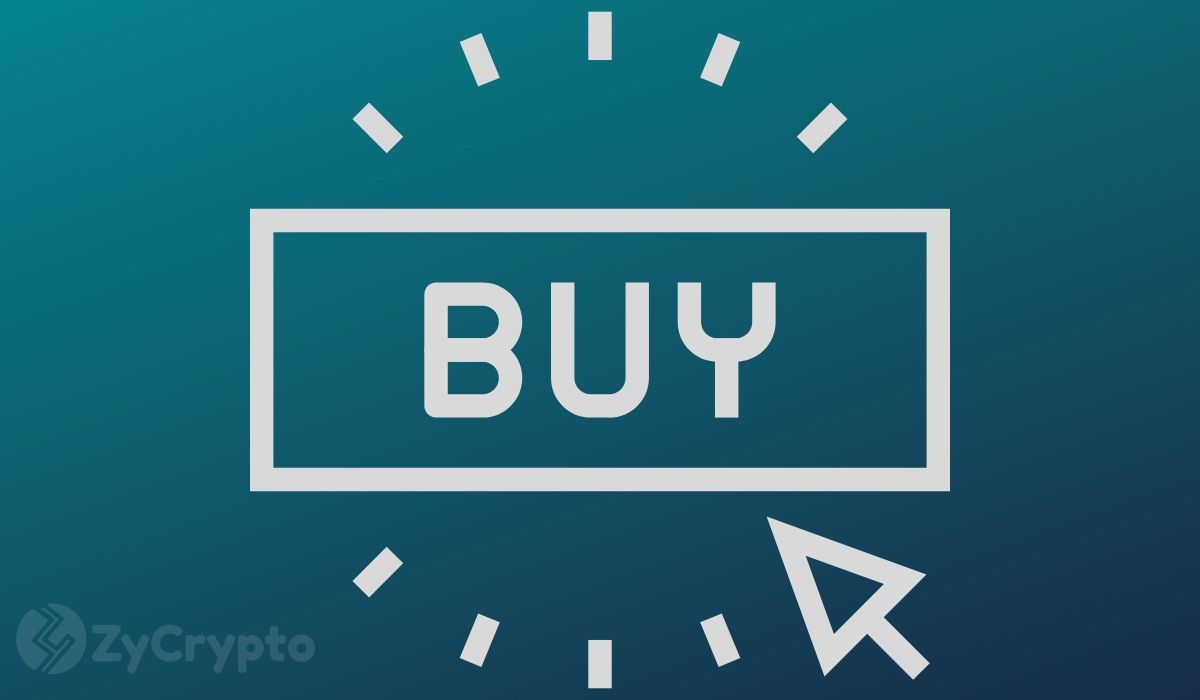 Wall Street is accumulating bitcoin (BTC) at a rapid clip, disregarding what skeptics like Goldman Sachs have to say.
A new report has revealed that institutional investors have bought a lot of BTC since its halving on May 11. Approximately 12,337 BTC has been minted since the halving, but over the same timeframe, Grayscale Investments has purchased close to 19,000 bitcoins on behalf of its institutional clients.
Smart Money Doesn't Care What Goldman Sachs Says: Analyst
Institutional investors are gravitating more towards bitcoin as a potential hedge against inflation and the overall dark cloud of economic uncertainty brought about by the coronavirus pandemic.
Grayscale Investments, one of the world's largest crypto fund managers, is enjoying the increased institutional interest in digital assets. Data provided by Kevin Rooke, an independent cryptocurrency researcher, shows that 18,910 BTC has gone to Grayscale's Bitcoin Trust since the halving. Yet, only 12,337 BTC has been produced since May 11. This implies that Grayscale Investments has bought over 150% of all the BTC mined since the halving.
Commenting on this appalling information, Rooke stated that Wall Street is buying bitcoin without paying any attention to Goldman Sachs' advice regarding bitcoin.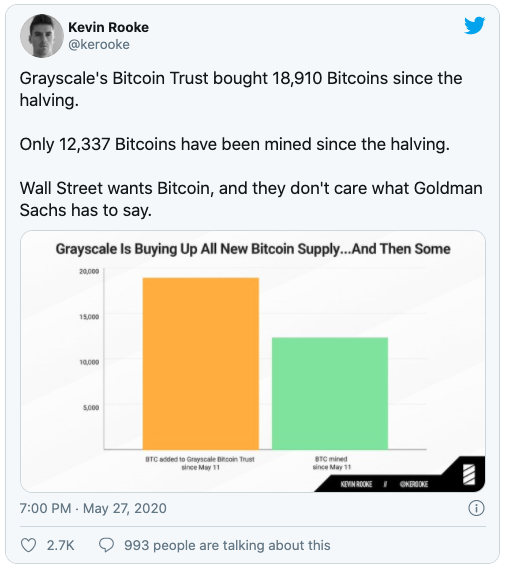 It is, therefore, safe to say that bitcoin miners are not producing enough BTC to fulfill the needs of institutional investors who rely on Grayscale Investments. This is insanely bullish, especially considering that BTC recently underwent halving where the asset's new supply was cut in half.
Some proponents suggest that the block reward halving would be a tacit boost for the BTC price in the long-term. They believe that as the BTC supply shrinks while the demand remains the same, the price of bitcoin should go up.
Now, there is a clear demand for bitcoin, even from institutional investors. It should be noted that these investors have not been stocking up on BTC this month alone. Another report a couple of days ago showed that Grayscale bought around 34% of all the BTC minted in the 100 days prior to the halving. For perspective, the fund bought a staggering 60,762 BTC during that period which is a notable increase from last year.
Is Bitcoin Going Mainstream?
In a packet of leaked slides from an investor call on Wednesday, Goldman Sachs completely dismissed bitcoin as a viable investment. Why? The reasons given include bitcoin's inability to generate cash flow, it does not hedge against inflation, and it also doesn't "provide consistent diversification benefits".
While some may take Goldman's comments as bearish, a few crypto observers think it is actually a good sign. Analyst Dave the Wave, for instance, asserted that the fact that the stalwart investment bank included bitcoin in their call means they are closely watching it.
"My take – any publicity is good publicity. BTC is on their radar, and they've had to respond. The content of the response is secondary."
The ongoing liquidity injections by central banks in the wake of COVID-19 have been criticized by financial experts who believe they will do more harm than good in the long-term. Such Wall Street critics like Paul Tudor Jones have purchased bitcoin with the belief that it is a great hedge against the great monetary inflation.
Although there remain naysayers like Goldman Sachs, bitcoin is certainly attracting a great deal of mainstream attention. Years ago, no one could have imagined that the pioneer cryptocurrency would attract such a high level of institutional interest. Whether this momentum continues for the rest of the year remains to be seen.

Markethive Advertisement
DISCLAIMER
The views expressed in the article are wholly those of the author and do not represent those of, nor should they be attributed to, ZyCrypto. This article is not meant to give financial advice. Please carry out your own research before investing in any of the various cryptocurrencies available.
The original article written by Brenda Ngari and posted on ZyCrypto.com.
Article reposted on Markethive by Jeffrey Sloe
Visit MarketHive to learn more: http://markethive.com/jeffreysloe