A Big Negative Factor for Bitcoin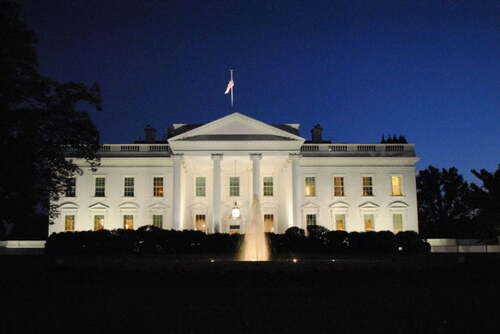 Biden's Presidency May Become A Big Negative Factor for Bitcoin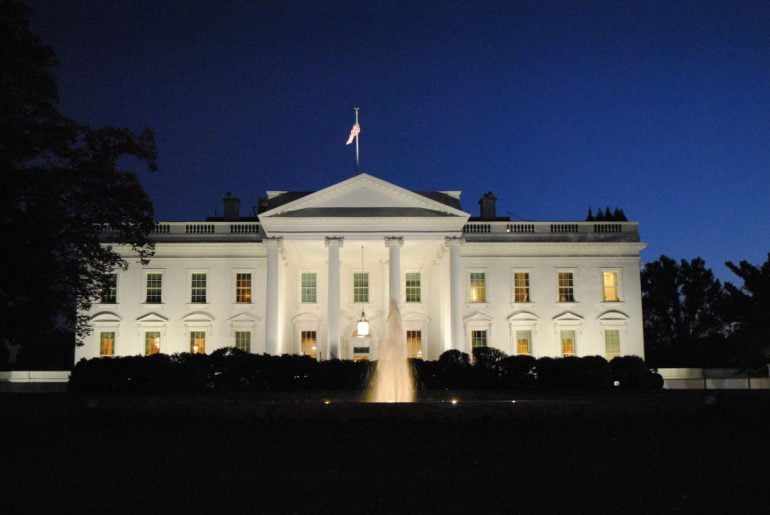 JOHN P. NJUI • BITCOIN (BTC) NEWS • APRIL 25, 2021
Peter Brandt highlights the possibility of the Biden administration becoming a big negative factor for Bitcoin
He cites the recent plans to increase capital gains tax
Some institutions and individuals in some US states might end up paying as much as 55% in taxes if the plan is implemented
Bitcoin has had 11 straight days of lower highs, with more selling anticipated
Veteran futures and forex trader, Peter Brandt, has pointed out that the Biden administration might become a big negative factor for Bitcoin.
According to Mr. Brandt, the proposal by the Biden Presidency to increase capital gains tax might result in the continuous selling of Bitcoin before the new rates kick in. His analysis of the whole situation can be found below.
Going forward. the Biden presidency may become a big negative factor for Bitcoin. Large $BTCsupply will come to market to get in front of capital gains taxes which will exceed 55% in some U.S. states.
Bitcoin Undergoes 11 Straight Days of Selling
In a follow-up to his initial analysis, Mr. Brandt has identified that Bitcoin has experienced eleven straight days of selling in the crypto markets. He shared his analysis through the following tweet, where he compares the current Bitcoin environment to past periods of similar BTC decline in 2018 and 2019.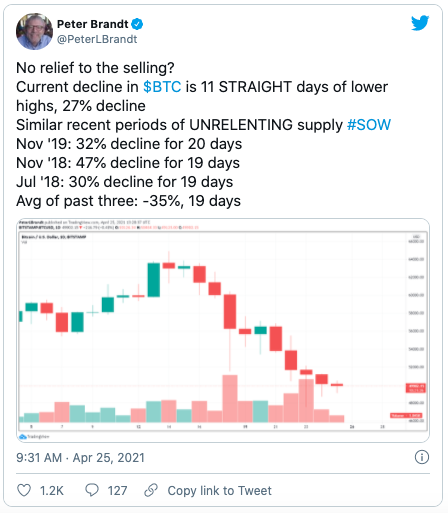 Bitcoin Has 3 More Hurdles in April
From the tweet, it can be observed that Mr. Brandt hints at the possibility of Bitcoin undergoing a few more days of selling to meet the average of 19 days. To be precise, Bitcoin has seven more rough days ahead.
In addition, a 35% decline from the recent all-time high of $64,854, translates to Bitcoin potentially printing a bottom at the $42k support area.
The latter price target does not seem impossible given that Bitcoin has the following 3 hurdles left in the month of April.
Today's weekly close with $50k and $47k acting as resistance and support respectively
The monthly close on Friday, April 30th
The expiration of Bitcoin options and futures contracts on the same Friday, April 30th


Markethive Advertisement
Original article posted on the EthereumWorldNews.com site, by John P. Njui.
Article re-posted on Markethive by Jeffrey Sloe
Visit MarketHive to learn more: http://markethive.com/jeffreysloe